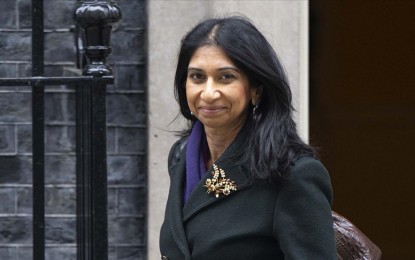 LONDON – British Home Secretary Suella Braverman on Wednesday continued to defend the country's controversial illegal migrant legislation, saying the government is not "breaking the law."
"We are very confident that our measures that we've announced yesterday are in compliance with our international law obligations, for example, the Refugee Convention, the European Convention on Human Rights," she told Sky News.
On Tuesday, the UK introduced an illegal migration bill that would allow for the detention and swift removal of anyone who enters the country illegally.
Following the announcement, the UN Refugee Agency (UNHCR) voiced concern about the issue, saying "the legislation, if passed, would amount to an asylum ban."
Braverman said around 45,000 people arrived in the UK illegally last year. "We need to take action, the status quo is unacceptable," she defended.
"It's breaking our laws to come here without a legal basis without permission and passing through a safe country where they should have and could have claimed asylum," she claimed.
The UK government's new plan to stop small boat migrants has been met with criticism from human rights organizations and refugee advocates who argue that it violates international law and the UK's obligations under the Refugee Convention.
The plan includes detaining the majority of those arriving on small boats for the first 28 days without bail or judicial review and preventing them from making claims to stop deportation until after they have been removed.
According to Amnesty International, the rights of migrants, refugees and asylum seekers are protected by international law regardless of how and why they arrive in a country. (Anadolu)