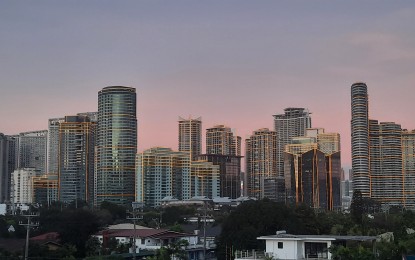 MANILA – An economist said Wednesday the gross international reserves (GIR) remained strong amid the decline, and still a boost to the local currency and the country's investment grade rating.
Rizal Commercial Banking Corporation (RCBC) chief economist Michael Ricafort said the latest foreign reserves level of the country is enough to cover 7.5 months-worth of imports and is still way above the three to four months minimum internal threshold.
Ricafort said this could still provide greater support on the peso exchange rate against any speculative attacks.
"Thus, still relatively high GIR at USD99.3 billion could still strengthen the country's external position, which is a key pillar for the country's continued favorable credit ratings for the second straight year, mostly at 1-3 notches above the minimum investment grade, a sign of resilience despite the Covid-19 (coronavirus disease 2019) pandemic that caused downgrades in other countries around the world," he said.
The Bangko Sentral ng Pilipinas (BSP) on Tuesday reported that the country's foreign reserves declined to USD99.31 billion in February from the USD100.7 billion as of end-January 2023.
This, after the withdrawal by the national government of its deposits with the central bank to pay its foreign currency-denominated debt, as well as lower valuations of the central bank's gold holdings due to its decline in the international market.
Ricafort is optimistic of the continued robustness of the country's GIR given the continued expansion of the structural inflows, such as the remittances from overseas Filipino workers (OFWs), revenues of the business process outsourcing (BPO) sector, tourism receipts and foreign investment inflows.
He added the continued increase in fund-raising and other investment banking activities by the country's biggest companies and conglomerates could entail some increase in foreign investment inflows that could add to the country's balance of payments (BOP) and GIR on a cash flow basis. (PNA)