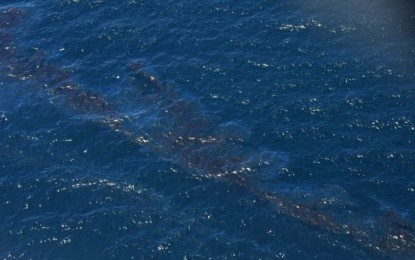 MANILA – The humanitarian and social action arm of the Catholic Bishops' Conference of the Philippines (CBCP) will send aid to residents affected by the oil spill in Oriental Mindoro.
Calapan, Oriental Mindoro's Diocesan Social Action Center (DSAC) director Fr. Edwin Gariguez said the NASSA/Caritas Philippines would extend assistance to 250 families.
"NASSA Caritas Philippines has committed to support 250 affected families with food packs that will be made available to the unreached and most needy affected coastal communities," Gariguez said in a statement Thursday.
He added that the DSAC and the affected parishes would have a meeting in St. Augustine Parish in the town of Pinamalayan on March 14 for the completion of those who will receive assistance.
The Lipa Archdiocesan Social Action Commission (LASAC) and the Center for Energy, Ecology and Development (CEED) will also provide food items and emergency assistance.
"The relief goods will be temporarily stored in the available space in St. Francis of Assisi Quasi Parish for distribution once the beneficiaries' list has been finalized and operation plan has been set up hopefully by next week," the priest said.
The church is also in contact with the concerned local government units and the provincial government of Oriental Mindoro for continuous response to the needs of the most affected communities.
The M/T Princess Empress sank off the coast of Naujan town in Oriental Mindoro on Feb. 28, causing its load of 800,000 liters of industrial oil to spill into the sea.
The towns of Naujan, Pinamalayan, Gloria, Bansud, Bongabong, Roxas, Mansalay, and Bulalacao have been placed under a state of calamity due to the damage of the oil spill and to help those concerned to distribute aid to the communities affected by the disaster.
A state of calamity was also declared in the town of Caluya, Antique due to the oil spill. (PNA)