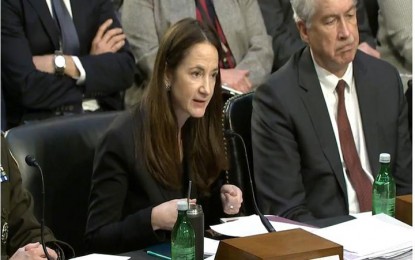 WASHINGTON – North Korea is expected to conduct a nuclear test as it continues to develop its missile capabilities in an attempt to drive a wedge between the United States and South Korea, a U.S. intelligence report said Wednesday.
The 2023 Annual Threat Assessment also noted that North Korean leader Kim Jong-un may have no intention to give up his nuclear weapons.
"Kim almost certainly views nuclear weapons and ICBMs as the ultimate guarantor of his autocratic rule and has no intention of abandoning those programs, believing that over time he will gain international acceptance as a nuclear power," said the report, released by the Office of the Director of National Intelligence.
"North Korea is using its nuclear-capable missile program to try to establish strategic dominance over South Korea and U.S. forces in the region by pursuing missiles probably aimed at defeating missile defenses on the peninsula and the region and issuing threats to militarily respond to any perceived attacks against its sovereignty," the report added.
North Korea staged nine intercontinental ballistic missiles (ICBM) tests in less than 12 months, with the last test taking place in February.
The country also fired an unprecedented 69 ballistic missiles in 2022 alone, marking a new annual record of ballistic missiles launched in a single year. Its previous record was 25.
The report noted that since September 2022, the North has timed its missile launches and military demonstrations to counter joint military exercises of the U.S. and South Korea "probably to attempt to coerce the United States and South Korea to change their behavior."
"Pyongyang probably wants the alliance to decrease the pace and scale of the exercises with the ultimate goal of undermining the strength of the alliance," it said. "Kim probably will continue to order missile tests ... to validate technical objectives, reinforce deterrence, and normalize Pyongyang's missile testing."
The report also highlights the possibility of a nuclear test, saying the North Korean leader remains "strongly committed to expanding the country's nuclear weapons arsenal and maintaining nuclear weapons as a centerpiece of his national security structure."
"North Korea probably is preparing to test a nuclear device to further its stated military modernization goals to facilitate "tactical nuclear operations"," it said.
Seoul and Washington earlier said the North may conduct a nuclear test at any time, noting the country appears to have completed all preparations for a nuclear test.
North Korea conducted its sixth and last nuclear test in September 2017.
The annual intelligence report also warned that the North will continue to engage in illicit cyber activities to fund its illegal nuclear and missile development programs.
"North Korea's cyber program continues to adapt to global trends in cybercrime by conducting cryptocurrency heists, diversifying its range of financially motivated cyber operations, and continuing to leverage advanced social engineering techniques," it said.
The White House National Security Council earlier said the North secures up to 30 percent of the fund for its weapons programs through cryptocurrency heists and other illicit activities such as money laundering. (Yonhap)