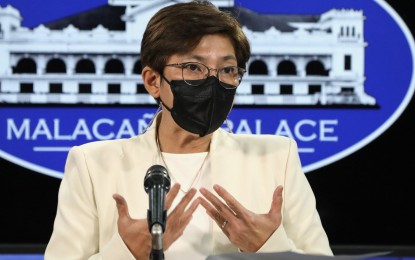 MANILA – The Department of Health (DOH) on Thursday assured the public that the wasted coronavirus disease 2019 (Covid-19) vaccines are disposed of in a safe manner.
During a Senate Blue Ribbon Committee hearing, DOH officer in charge Maria Rosario Vergeire noted that the Covid-19 vaccines stored in the warehouses are "non-live."
"Meaning all of these vaccines, their components had been modified, including mRNA, so the probability or the risk of having this kind of transmission even after it is buried is very, very minimal," she said.
Vergeire explained that the process for storing and disposing of vaccines is safe based on the standards provided by the Department of Environment and Natural Resources (DENR).
DENR Environmental Management Bureau's Hazardous Waste Management chief Gerry Sañes said the vaccines undergo thermal decomposition by pyrolysis.
Pyrolysis is a process wherein a vaccine undergoes thermal degradation into smaller volatile molecules, without interacting with oxygen or any other oxidants. The decomposition of the materials happens at elevated temperatures.
This process is performed by the Integrated Waste Management Inc. in Barangay Aguado, Trece Martires in Cavite.
"This gaseous component in turn becomes transformed into ashes and chars. Then after that, it is placed in drums and sealed tightly. Then after which it is brought to the landfill in Tarlac, which is also an accredited landfill," Vergeire said.
The communities surrounding the area would not be affected as there are no "gaps" in the process, she added.
Vergeire confirmed that the Covid-19 vaccine wastage could reach 50.74 million by the end of March. Of the tally, 44 million doses have expired while 6.74 million will expire by the end of this month.
About 6,955,350 doses are under quarantine as they are approaching the expiry date.
"We are still awaiting from the manufacturers and the FDA (Food and Drug Administration) if these (vaccines in quarantine) can be allowed to have an extension of the shelf life," she said. (PNA)