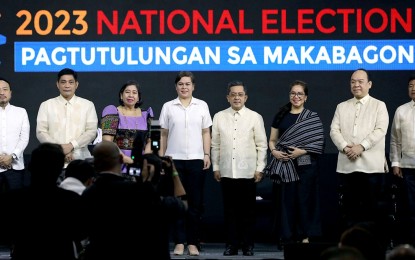 MANILA – The Commission on Elections (Comelec) is open to the recommendation of Vice President and Education Secretary Sara Duterte to release in advance the honoraria of teachers who are serving as members of the Election Board (EB) during elections.
"When our honorable vice president mentioned her request to the Commission en banc, I immediately looked at the auditor assigned to the Comelec, the Commission on Audit (COA) auditor, because there is no problem with us, anything that can facilitate and provide sufficient benefit to the teachers, we are consistent with that, always in favor of the teachers," poll body chair George Erwin Garcia said in a press briefing Thursday.
However, he said the move is subject to the approval of the Commission on Audit (COA).
"But there are issues regarding auditing if things like that are allowed by the COA," he added.
Garcia said they have already implemented a partial release of honoraria but they had problems when some poll workers failed to report to work.
"We've done it before. They were paid 50 percent, but many teachers did not report on the day of the election due to some reasons and that created a problem especially with the Commission on Audit. But if the Commission on Audit will only allow us, we will definitely proceed especially for the good of our teachers," the poll body chief added.
In her speech at the second day of the National Election Summit 2023, Duterte expressed hope that teachers would be paid ahead of the elections for them to be able to shell out money for food, transportation and other expenses while performing their duties.
During elections, the EB chairpersons, members and support staff are entitled to honoraria of PHP6,000, PHP5,000 and PHP4,000, respectively. (PNA)