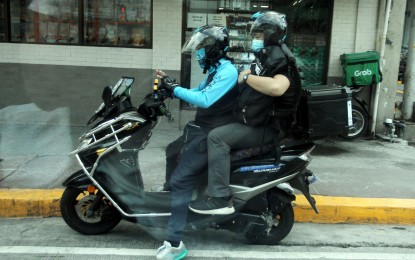 MANILA – A party-list lawmaker on Thursday emphasized the need to pass a bill allowing and regulating the use of motorcycles-for-hire as public transport in light of the recent nationwide transport strike.
In a statement, Puwersa ng Bayaning Atleta (PBA) Party-list Rep. Margarita Nograles said the importance of having alternative transportation apart from the traditional public utility vehicles was made more apparent during the transport strike as commuters were still able to get a ride using motorcycle-hailing apps, and even the "colorum" or illegal motorcycles called "habal-habal."
"We are thankful that the presence of our motorcycle taxis, like Angkas and Joyride, mitigated the effect of the nationwide transport strike. Thousands of commuters were still able to get a ride using these motorcycle taxis. Clearly, the transport strike has shown us that while motorcycle taxis can be very convenient, they can be also very dangerous if not properly regulated," Nograles said.
She said the nationwide transport strike should serve as an eye-opener for Congress to urgently consider the enactment of a law regulating motorcycle-for-hire services to prevent the proliferation of unauthorized and unregistered motorcycle taxis.
Nograles said because motorcycle taxis and other motorcycle-for-hire services have become part of the day-to-day lives of tens of thousands of Filipinos, the government should take steps to ensure the welfare and safety of the drivers and the riding public.
"Their services have been a part of our day-to-day lives long before companies like Angkas and Joyride started their operation. In Mindanao, we have these habal-habals and the so-called Skylab as our primary transportation. It is about time that we should really regulate their operation," she added.
She noted that motorcycle taxis and motorcycle delivery services have become one of the biggest job-generating industries in the country and the enactment of a law regulating their operation would protect them from "whimsical" policy changes, crackdowns, and even extortion.
The proposal, she said, would also set the standards, specifications, and even penalties for the operation of these motorcycles-for-hire.
It would also ensure accountability on the part of the drivers who are expected to guarantee the safety of their passengers or the cargo entrusted to them, she added.
Transport groups earlier opposed the planned phaseout of traditional jeepneys to replace them with electric jeepneys, saying they needed stronger financial support because they are incapable of repaying the huge loan under the public utility vehicle modernization program (PUVMP).
The nationwide strike was supposed to be held from Monday to Saturday but was cut short after a meeting between transport group heads and Presidential Communications Office Secretary Cheloy Garafil and Office of the Executive Secretary Undersecretary Roy Cervantes.
President Ferdinand R. Marcos Jr., meanwhile, said the government is making sure that jeepney drivers and operators would not lose their means of livelihood when it finally implements the PUVMP.
"Ang problema na kanilang sinasabi ay baka hindi sila mapa-utang para makapag bili ng bagong sasakyan. Kaya 'yan ang tinitignan natin ngayon, na tiyakin na walang mawawalan ng trabaho dahil hindi nakapagbili ng electric vehicle pagdating ng panahon. Wala pa tayo doon (I think the problem they mentioned is they might not be able to get a loan to buy a new vehicle. So, we are studying that to make sure that no one loses a job just because he could not afford to buy an electric vehicle when the time comes. We're not there yet)," Marcos said.
The PUVMP aims to achieve a restructured, modern, well-managed, and environmentally sustainable transport sector where drivers and operators have stable, sufficient, and dignified livelihoods while commuters get to their destinations quickly, safely, and comfortably, according to the Land Transportation and Franchising Board. (PNA)