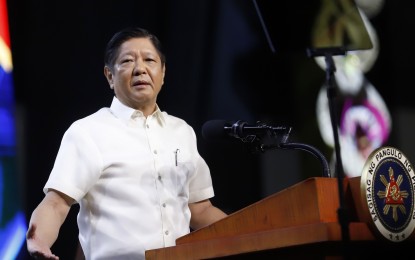 MANILA – President Ferdinand R. Marcos Jr. on Thursday called on councilors to support the priority legislations of his administration, particularly those that will empower local government units to discharge their responsibilities more effectively.
"I am hopeful that you will support the passage of the administration's legislative priorities, particularly measures that aim to capacitate local government units," he said in a speech during the Philippine Councilors League (PCL) National Convention 2023 and oath-taking of newly elected PCL national officers at the World Trade Center in Pasay City.
Marcos said among these legislations are the E-Governance Act, which will institutionalize digitalization in the bureaucracy and make it easier for Filipinos to transact with government, and amendments to the Build-Operate-Transfer (BOT) Law to address ambiguities, bottlenecks and other challenges in implementing the law.
"This will empower you to participate more actively in BOT projects as the proposed amendments will streamline the guidelines and eliminate uncertainties that limit your participation in Public-Private Partnerships," he said.
He also called on councilors to lobby for the passage of the National Land Use Act, which will allow the government to allocate land for priority sectors such as in agricultural and fishery production, settlement and infrastructure development, transportation, communication, water resources, as well as social infrastructure.
"This [will] effectively help manage the country's land and water resources," he said. "However, pending its passage, I encourage you to harmonize, standardize and set policies and rules related to land use. Effective implementation of land use-related policies optimizes the potential of land resources and it will stimulate economic development in your respective localities."
Marcos likewise urged support for the passage of Tax Package 3, or the Valuation Reform Bill, to ensure the development of a just, equitable and efficient real property valuation system.
"If we work together in passing this proposal, we can broaden the tax base used for property and property-related taxes of the national and local governments, increase LGU revenues without adopting new tax measures, and enhance LGUs' financial self-sufficiency," he said.
"Ito magagawa natin lahat ito na hindi natin dinadagdagan ang buwis sa taong-bayan (We can do all of these without raising people's taxes)," he added.
He also lobbied for the passage of the Waste Treatment Technology Act, which will pave the way for modern options in solving the persistent garbage problem in the country.
"This will mandate LGUs to promote, encourage, and implement a comprehensive solid waste management program that includes reduction, segregation, recycling and recovery," he said.
Transparency, accountability
Marcos also congratulated the newly-elected PCL national officers, reminding them of their pledge to serve with "honor, integrity and dedication" and uphold "transparency and accountability" in their work.
"I am sure that you will fulfill your oath to exercise your functions, bearing in mind the best interest of your constituents. Never surrender to any form of temptation that will taint your integrity," he said.
"Apart from inhibiting yourselves from corrupt practices, I also urge you to avoid unjust and dangerous acts that put the bureaucracy in a state of decay," he said.
He reminded them that both "commission" and "omission" are forms of deception against their constituents.
Prioritizing the people
Marcos also enjoined councilors to focus on tasks that are beneficial to the people and push for concrete ways to address the needs of every sector of society.
"It is your obligation to give life, meaning, and substance to the constitutional mandate of local autonomy and decentralization of powers, you are also endowed to engage in meaningful discussions on matters involving local legislative concerns," he said.
He asked them to ensure that local ordinances enable the free and unhampered flow of goods within their localities.
Marcos also encouraged councilors to continue bringing the government closer to the people by formulating programs, projects and activities that nurture the well-being of the public.
"Instead of mobilizing your people to troop, to go to urban communities and other centers of activity, let us bring ourselves to the far-flung areas to make governance more accessible and convenient for everyone," he said, referring to a whole-of-government approach to solving the nation's problems.
He vowed support for all local government units, emphasizing that they have as much vital role as the national government in addressing urgent concerns.
"Asahan naman ninyo na ang national government kapag humingi kayo ng tulong, kami ay papasok diyan (You can count on the national government to step in whenever you need help)," he said.
He also assured that his administration is one with the councilors in formulating, implementing and coordinating programs and projects that are beneficial to the PCL and the Filipino people. (PNA)