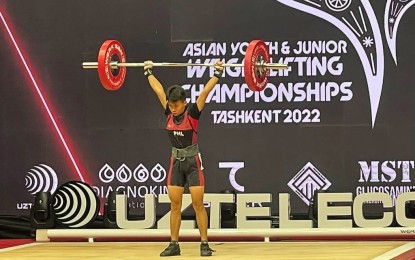 MANILA – Angeline Colonia will lead the Philippine campaign in the International Weightlifting Federation (IWF) Youth World Championships scheduled to be held at the Ramazan Njala Sports Complex in Durres, a port city in western Albania, from March 25 to April 1.
The 16-year-old pride of Zamboanga City is hoping for another sterling performance after winning three medals in the Youth women's 40kg. category at the 2022 Asian Youth and Junior Championships in Tashkent, Uzbekistan.
Colonia won the gold medal in snatch after lifting 62kg., erasing the 61kg. Asian Youth and World Youth records set in 2018.
She got a silver medal in the clean and jerk (72kg.) and went on to claim the gold medal in total (134kg.).
"I am always optimistic when I compete because I know that I trained hard," Colonia said in an interview on Friday.
She will compete in the 45kg. category.
"But I don't want to be overconfident. Anything can happen in a competition," added the youngest sibling of 2016 Rio Olympics veteran Nestor Colonia.
Also going to Albania are Zamboangueños Rosalinda Faustino (women's 55kg.) and Albert Ian de los Santos (men's 61kg.), Eron Borres of Cebu City (men's 49kg.) and Prince Keil de los Santos of Angono, Rizal (men's 49kg).
In Uzbekistan, Faustino pocketed three gold medals while Prince Keil grabbed two bronze medals in the 49kg. category of their respective divisions.
Albert Ian has joined the 2021 Youth World Championships in Saudi Arabia, while Borres will be making his debut on the international stage.
The five athletes are scheduled to leave on March 21 together with coaches Gregorio Colonia, who saw action at the 1988 Seoul Olympics, and Diwa de los Santos, a SEA Games bronze medalist.
Rose Jean Ramos of Zamboanga City, the 2021 and 2022 champion in the women's 45kg. category, will turn 18 in June this year, making her ineligible to compete in the Albania tournament, which is for athletes 13 years to 17 years old. (PNA)