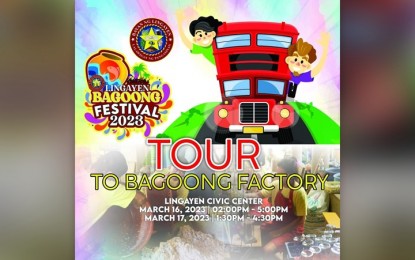 LINGAYEN, Pangasinan – This town's Bagoong Festival returns this March after years of hiatus due to the pandemic.
The main events scheduled on March 16 to 18 are the Taway-Taway Cooking Exhibition featuring Chef Stries Casallo, free guided Tour to bagoong Factories, Lingayen Cooking Competition, and the Street Dancing Competition.
Municipal Tourism Officer Michelle Lioanag, in an interview Friday, said in the cooking competition, participants will showcase the versatility of bagoong (fermented fish), veering away from the usual seasoning for vegetable dishes of "pinakbet" and "dinengdeng" to be demonstrated by Chef Casallo.
She said the guided tour to bagoong factories is scheduled on March 16 and 17, in different batches. The participating factories are JB/Bernal Bagoong, MMMSGJCCM Corporation and JE's Bagoong.
Lioanag said interested participants have to register online through the link https://l.facebook.com/l.ph.
In the street dancing and float parade, Mayor Leopoldo Bataoil said they grouped the bagoong producers into small and big categories to support particular group or float.
Bataoil said Lingayen's "bagoong" industry also went through a difficult time because of the pandemic plus the strict international rule of manufacturing.
"We believe that many of the manufacturers had complied with the international standard. In fact, they are allowed to export already. But with or without export, they can survive because of local consumption. I believe the industry survives," he said.
He added that bagoong factories here are producing export quality both in bottles and sachet form.
Lingayen is known nationally and internationally for its "bagoong" production.
"And ever since, we are producing world-class quality 'bagoong'. Therefore, we already claimed it and it is enshrined at the corner of the town plaza, World's Best – Lingayen Bagoong, written at a big replica of a bagoong clay jar. We are aware that many other towns are also producing 'bagoong', having been born here, I am aware that Lingayen is known for the best 'bagoong' long time ago, thus we claimed that title," he said. (PNA)