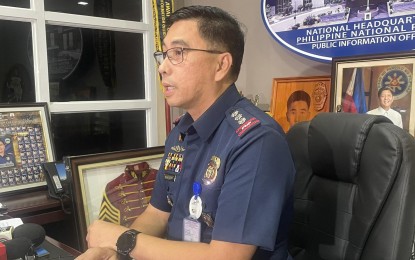 MANILA – The Philippine National Police (PNP) on Friday said it continues to crack down against private armed groups (PAGs) and intensify its campaign against loose firearms.
PNP Public Information Office (PIO) chief Col. Redrico Maranan made the remark in response to President Ferdinand R. Marcos Jr.'s order to identify crime hotspots in the country in the wake of attacks against local chief executives, the latest of which is the March 4 killing of Negros Oriental Governor Roel Degamo.
Maranan said they will come up with a list of political hotspots in the country where attacks on local officials are rife.
"We will identify the areas of concern. Focused police operations on loose firearms and firearms with delinquent registration as well as against members of PAGS will be conducted," Maranan told Philippine News Agency (PNA) when sought for a comment.
Since the suspects in Degamo's killing were former members of law enforcement agencies, Maranan said they will also do an accounting and monitoring of dismissed police and military personnel.
The four suspects -- former soldiers Joric Labrador, Joven Javier, Benjoe Rodriguez, and Osmundo Rivero -- who are now under government custody, have expressed their intention to cooperate in the investigation.
Javier and Rivero, the first of the four suspects who agreed to cooperate, are now under the custody of the National Bureau of Investigation (NBI).
Maranan, meanwhile, said the PNP would provide additional security to elected government officials who have active threats against them based on the results of a security assessment.
Police visibility would also be improved and checkpoints would be intensified, he added.
Interior Secretary Benjamin Abalos Jr. and PNP officials earlier met with members of the Union of Local Authorities in the Philippines (ULAP), headed by Quirino Gov. Dax Cua, to discuss the recent attacks against elected local officials.
Aside from slain Govenor Roel Degamo, other local officials who became victims of attacks were Lanao del Sur Governor Mamintal "Bombit" Alonto-Adiong Jr., Vice Mayor Rommel Alameda of Aparri, Cagayan, and Mayor Ohto Montawal of Tunggol, Datu Montawal, Maguindanao del Sur.
Abalos assured local officials that the situation in Negros Oriental is being taken care of by the police and military and that they would exert all efforts to immediately resolve and unmask the mastermind behind Degamo's killing.
Raid on NegOr solon's house legal
The PNP on Friday confirmed that the Criminal Investigation and Detection Group (CIDG) conducted a raid against several houses owned by Negros Oriental Rep. Arnulfo Teves Jr. in the province in a bid to seize illegal firearms.
Maranan confirmed in a TV report that a warrant was issued to search for loose firearms.
In a radio interview, Abalos said the search warrant covered five houses but not all of them belong to Teves.
He claimed that Teves owns firearms with "spurious documents."
Abalos said the PNP Firearms and Explosives Office (FEO) was conducting an annual review of all the gun licensees and it has long been identified that Teves submitted "spurious" documents.
"Spurious kasi 'yung mga documents niya nung araw pa kaya nga sinasabi ko nga sa FEO bakit hindi niyo pakuha yan. Spurious yan. I mean dapat walang karapatang magdala ng baril yan dahil para magbigay ka ng spurious documents talagang hindi pupuwede yan. May requirement ka pagkatapos ay hindi pala totoo 'yung mga requirement mo automatic null and void, walang bisa yan (Because his documents from the start were spurious, that's why I'm telling the FEO why don't you get them. It is spurious. I mean you should not have the right to carry a gun because the documents he provided us are spurious. You have a requirement and then it turns out that your requirements are not true, they are automatically null and void, that's invalid)," Abalos said.
Abalos said the raid is related to the murder charges filed by the CIDG against Teves and five other individuals last March 7 in connection to the 2019 killings of three individuals in Negros Oriental.
Abalos and Teves have been embroiled in a rift, with the lawmaker accusing the DILG chief of making some personal attacks and even linked him to illegal e-sabong or online cockfight game operations and employing dirty tactics just to be popular.
Abalos, however, denied the allegations. (PNA)