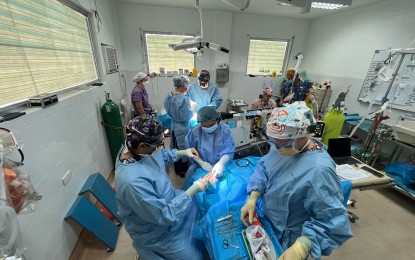 MANILA – The country must institutionalize an Emergency Medical Service System (EMSS) to establish a national standard for emergency medical services and adopt protocols in times of natural and manmade disasters.
Under Senate Bill No. 1973 or the Emergency Medical Services System Act, the government shall institutionalize a comprehensive, accessible, integrated and standardized system of emergency medical services and maximize the capability and potential of medical personnel.
Bill author Senator JV Ejercito cited the 2022 World Risk Reports that showed the Philippines, India and Indonesia with highest overall disaster risk.
The report ranked 193 countries on their risk of experiencing disaster or vulnerability to extreme natural events such as earthquakes, tsunamis, floods, and drought.
"A competent and standardized emergency medical service system is essential to the health care system of a country. Its goal is to provide emergency medical care to all who need it," read the bill's explanatory note.
The availability of EMSS include rapid assessment, timely provision of appropriate interventions, and prompt transportation to the nearest appropriate health facility by the best possible means to enhance survival, control morbidity, and prevent disability, the bill states.
The enactment of an EMSS law, according to Ejercito, will pave the way for an organized response to any kind of medical or trauma emergency with adequate equipment and skilled professionals, thus ensuring the greater survival of patients.
The bill seeks to establish a National Emergency Medical Services Systems Council under the Department of the Interior and Local Government; create a national Emergency Medical Services System Council; develop an emergency medical services system at the national, regional and local levels of government; and institutionalize the use of 911 as the Nationwide Emergency Hotline Number, among others.
"Nearly 20 years ago since bills on emergency medical service and trauma care have been filed in the Senate yet until now, it remained pending in the legislature. It is high time to prioritize the passage of this measure so we can prevent the loss of lives by creating a competent and standardized EMSS," Ejercito explained. (PNA)