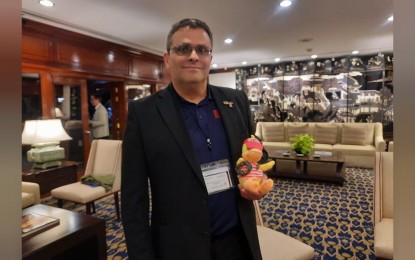 MANILA – American donut brand Duck Donuts is looking for a Filipino partner to open its first store in the Philippines as it expands its presence in Asia.
Duck Donuts is among the 10 visiting companies from the United States that are part of the Trade Winds business mission in the Association of Southeast Asian Nations (ASEAN).
Trade Winds is the largest US government-led trade and business development forum, which is bringing 120 US companies to ASEAN this month to expand their operations in the region.
Duck Donuts global franchise development executive Marcel Portmann told reporters here Thursday night that the company aims to operate in another Southeast Asian country, which could be the Philippines.
Portmann said its first store would be located in Bangkok.
He said they are scouting for a franchisee that can bring the brand to the Philippines that has experience in the food business and knowledge in real estate to put up the stores in strategic locations.
"We need someone who can prove to us they can open at least eight stores," Portmann said, adding the partnership would be a 10-year agreement.
He said the eight stores should be opened within the first five years of the deal.
Aside from opening shops, the company also targets to put up the supply chain locally.
"Supply chain for us is very important. So, we will work towards having a regional and even a local supply chain in Asia," Portmann added.
Founded in Duck, North Carolina in 2006, the American donut shop chain has more than 100 stores in the US and has opened in the Middle East, Egypt, and Puerto Rico.
Unlike other donut brands, Duck Donuts does not have donuts on their racks as their products are freshly made and customers can also customize the flavors and toppings.
Portmann further said it would also offer local flavors, including toppings that are unique to the Philippines.
Duck Donuts targets to open its first store in the country by the fourth quarter of this year or early next year once it finds its local partner. (PNA)