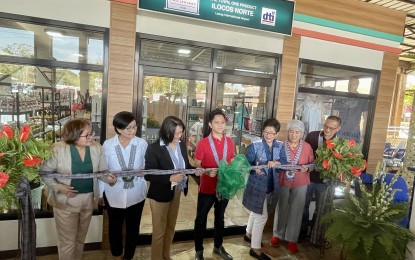 LAOAG CITY – The Department of Trade and Industry (DTI) is urging all its micro, small, and medium enterprises (MSMEs) to "think big" as the government continues to empower local businesses to foster economic growth, employment, and income.
Following the relaunching of the One Town One Product Hub located in front of the departure area of the Laoag International Airport, Ermelyn Tariga, head of the Partuat ti Kailokuan Marketing Cooperative that operates the OTOP hub, said in an interview Friday they are inspired to further create more products for airport travelers and other visitors.
Established in January 2019, the Laoag airport's OTOP hub was among the top sellers of "pasalubong"(take-away products) in the region with an average sales of PHP300,000 per month.
Its bullish sales performance was cut short by the global pandemic which shut down its operation at the airport.
Tariga said she and her fellow MSMEs can showcase their food and non-food products again at the airport through the help of the DTI, together with the Civil Aviation Authority of the Philippines (CAAP) and the office of Ilocos Norte 1st District Representative Ferdinand Alexander Marcos that co-funded the establishment of the OTOP Hub to a more accessible site at the airport.
"We are thankful and excited at the same time because our products are visible at the airport again," said Tariga as she reported there are over 50 local suppliers from Region 1 who committed to supplying their quality products at the OTOP Hub on a consignment basis.
While in this city, DTI Regional Director Grace Falgui-Baluyan has urged MSMEs to think big as the worldwide market awaits them to be discovered.
She reminded MSMEs, however, to comply with international marketing standards to ensure their competitiveness in the global market.
For her part, Vice Governor Cecilia Marcos Araneta said the future is bright for MSMEs in the province as the Ilocos Norte government and all other concerned government agencies are behind them all the way.
To date, all products on display at the OTOP hub are export-ready including world-class handwoven bags, table runners, towels, various handicrafts, dried mangoes, rice crackers, rice coffee, turmeric powder, "bagnet" (deep fried pork belly) chips, cornick (crunchy puffed corn), pickled vegetables, tomato jam, and "pinakbet" (veggie dish) paste, among others.
Under a five-year contract agreement, the CAAP has allowed the coop to operate the OTOP Hub free of charge except for its utility bills. (PNA)