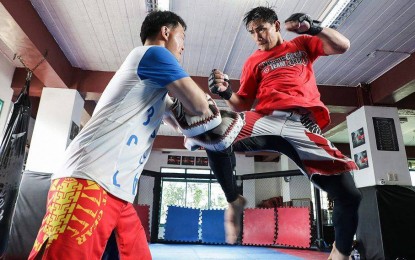 MANILA -- Eduard Folayang on Friday bid farewell to Team Lakay, in an announcement that probably rocked the Philippine mixed martial arts (MMA) community.
Folayang has been with the stable since its foundation in 2006.
"For the last 16 years of my professional career as a mixed martial artist, I was in the company of brave and talented individuals in Team Lakay. This stable was a large element in what I have become and the stature I have arrived at in our beloved sport," Folayang said in a statement.
"But as the oft saying goes, all good things must come to an end. Sadly, and with a heavy heart, my journey with Team Lakay has reached its final stretch," he said.
In a separate statement, Team Lakay confirmed Folayang's departure from the stable, but said that there was no rift that led to his leaving.
"With a heavy and yet hopeful heart, we would like to update all of our fans and supporters that Team Lakay and Eduard 'The Landslide' Folayang have now cordially parted ways," the stable said.
Folayang believed that leaving Team Lakay could give him an opportunity to improve his skills as an MMA fighter.
"I believe there are still a few things I must accomplish in what remains in my active years as an athlete. The profession I have chosen requires me to learn, evolve, and grow. In order for me to achieve this, I must step out of my comfort zone and discover new ways to foster my development as a martial artist," said the former Universal Reality Combat Championship, and ONE Championship lightweight champion.
Folayang has lost his last five MMA fights and seven of his last eight since losing the ONE lightweight belt to Shinya Aoki in 2019.
The losing streak has sparked speculations among fans if the 39-year-old Folayang should consider retiring from the game, but the veteran insisted in recent interviews that he is not yet inclined of doing so.
"I realize this will not be easy. But I hold onto the promise that the race is not given to the swift or to the strong, but to the one who patiently and determinedly endures to the end. Yes, we shall rise again," Folayang vowed.
Meanwhile, he thanked the entire Lakay stable, especially chief trainer Mark Sangiao, for the time that they have spent together.
Folayang's partnership with Sangiao dates back to the time Sangiao was still an active competitor during the early 2000s, just before he thought of founding Team Lakay.
"Words will not suffice to aptly impart how grateful I am for our camaraderie that has led to our achievements and victories inside the Circle, as well as the heartbreaks that have driven us to keep going in pursuit of our ultimate goal. I will forever cherish every moment like a precious treasure," he said.
"I extend my sincere and heartfelt gratitude to Team Lakay. I wish no less than the best for Coach Mark Sangiao and everyone under his wing. This is not a goodbye, but so long for now," Folayang said.
Sangiao, for his part, said he is wishing his friend "all the best and good luck on your next venture and adventure."
"I pray that this will lead you to continuous growth and to be a better individual for His glory, for the sports that we both love, for the country and for the generations after us. So long Lakay, see you on the road," he said in a separate statement.
Team Lakay also wished Folayang all the best in his next steps.
"Champ Eduard, you are the epitome of what a great warrior is. You are and forever will be the face of Philippine MMA. You have motivated athletes around you and inspired the younger generation. From Team Lakay Family, we wish you all the best for what's ahead of you," Team Lakay's statement read. (PNA)