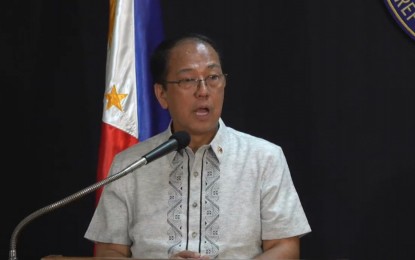 MANILA – President Ferdinand R. Marcos Jr. has ordered the Department of National Defense (DND) to "suppress criminal activities and impunity" in the entire Negros Island.
Defense Secretary Carlito Galvez Jr. said the Chief Executive issued the order on Thursday night and directed him to give justice to the families of Negros Oriental Governor Roel Degamo and the eight other victims who were killed in a brutal attack last March 4.
"And to give justice to the families and loved ones of those who were slain in the assassination of Governor Roel Degamo and restore normalcy and confidence of our people," Galvez said in a press conference held at the DND headquarters in Camp Aguinaldo, Quezon City Friday.
He also added that the President also issued verbal orders to create a joint task force composed of two brigades to step up and assist ongoing joint Armed Forces of the Philippines-Philippine National Police (AFP-PNP) operations.
This joint task force is tasked to carry out Marcos' order and search warrants, Galvez stressed.
"Also we have just deployed a 50-man specially-trained strong Light Reaction Company, kung alam nyo po yung light reaction company (if you are know of the Light Reaction Company), they were involved in the Battle of Marawi (in 2017) from the deployment of the AFP to monitor the remaining suspects," he added.
The deployment of these special troops give emphasis to Marcos' earlier comment that the suspects can run but cannot hide.
"As the President had said that we will give justice to the family and sabi niya na (and he told the) suspects, you can run but you cannot hide, we will find you," Galvez said.
Meanwhile, AFP chief of staff Gen. Andres Centino extended the military's condolences to the victims and their families.
"Collectively the AFP sends its its sympathies to the bereaved families of those who died in the incident, of course the people of Negros Oriental. We condemn in the strongest terms this brutal act committed by the attackers," he added.
Centino also said AFP has been coordinating with the PNP and this cooperation has resulted in the arrest of the suspects.
"The arrested suspects are now in the custody of the PNP and the NBI (National Bureau of Investigation) and the AFP will continue to work with the other agencies to arrest the remaining perpetrators so justice will be served to the victims and their families," he added.
Centino also said that the joint task force, ordered created by the President, shall be composed of AFP units based in the area and augmented by troops from outside of Negros.
"As mentioned earlier we have already deployed an elite unit coming from Cotabato and now they are now in Negros to augment our forces there. The joint task force will be headed by the commander of 3rd Infantry Division, Brig. Gen. Marion Sison and he will be assisted by two brigade commanders, Brig. Gen Leo Pena and Col. (Orlando) Edralin, they are brigade commanders having operational control over six battalions in the island. We assure that the AFP in collaboration with the PNP and other law enforcement agencies will continue to protect the people and safeguard the peace and security in our community," he added. (PNA)