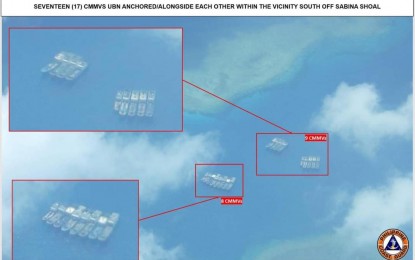 MANILA – The Philippine Coast Guard (PCG) observed fewer Chinese vessels near some of the disputed features in the West Philippine Sea during its latest Maritime Domain Awareness (MDA) flight on Thursday.
In a statement on Friday, the PCG said the MDA flights were conducted over Pag-asa Island, Ayungin Shoal and Sabina Shoal, where it has previously reported significant numbers of foreign-flagged vessels, including Chinese Maritime Militia (CMM) and the presence of People's Liberation Army (PLA) Navy and Chinese Coast Guard (CCG) vessels.
It spotted 15 CMM vessels near Pag-asa Island, down from 42 last week.
However, it also noted that a PLA Navy warship and a CCG vessel remained within the island's territorial sea.
"The PLA Navy's Jiangdao Class warship and CCG vessel 5203 continue to loiter within Pag-asa's 12-nautical mile territorial sea," it said.
Over Ayungin Shoal, where the Philippine Navy's BRP Sierra Madre is grounded to assert Philippine sovereignty, the PCG said that CCG vessel 5304 was still lurking about six nautical miles away.
Over Sabina Shoal, another feature claimed by both countries, the PCG reported that it saw 17 CMM vessels, down from 26 two weeks ago.
During the MDA flights, it received seven radio challenges from the CCG vessels -- four over Pag-asa Island and three over Ayungin Shoal.
The PCG is coordinating with the Western Command (WESCOM) of the Armed Forces of the Philippines (AFP) and the Area Task Force – West (ATF-WEST) to ensure a unified response to the situation in the contested waters.
"A complete report on the MDA flight will be endorsed to the National Task Force on the West Philippine Sea for review and analysis," it said.
The PCG expressed its support for AFP-WESCOM's statement that the Philippines' efforts are aimed at promoting adherence to an international rules-based order and strengthening established bilateral and multilateral mechanisms to avoid conflict and maintain peace and stability in the West Philippine Sea.
The PCG also reiterated its commitment to defend Philippine sovereignty and rights despite incidents of harassment, coercion, and provocations from Chinese vessels challenging its legitimate entitlements as articulated by UNCLOS and upheld in the 2016 Arbitral Award.
PCG Commandant Adm. Artemio Abu, meanwhile, assured that the they would "remain steadfast in advancing the national interest." (PNA)