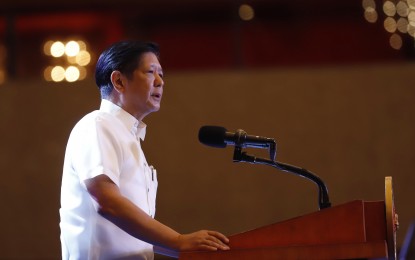 MANILA – President Ferdinand Marcos Jr. on Friday urged the country's scientists and experts to continue broadening their fields of expertise as they are considered as "beacons of light" toward the country's development.
During the 2023 Annual Scientific Conference and 90th General Membership Assembly of the National Research Council of the Philippines (NRCP) in Pasay City, Marcos said that by integrating science and good governance, the nation can build a much-improved future for the next generation of Filipinos.
"I cannot think of a better, a more qualified group of individuals who will help clear the shadows of doubt and become beacons of light, than our women and men in the fields of science," the President said.
He told attendees that using science and technology, as well as evidence-based solutions could lead to more meaningful action and policies to achieve national development.
"Imagine what we can accomplish together once we light our path with the foundations of science: sustainable agricultural technology that will help our farmers; cities that will run on green energy; safe and affordable medicines for diseases that were once thought incurable, amongst many others successes that we have seen from the scientific field," Marcos added.
He said scientists and experts could help alter the negative perception of "volatile, uncertain, complex, and ambiguous" (VUCA) global environment by changing the traditional ways of seeing and building the world.
"Indeed, this year's theme speaks well of your community's stand to challenge the uncertainties ahead with innovation, with research, and evidence-based solutions," Marcos said, referring to the summit's focus on achieving a "Visionary, Understandable, Clear, Agile, Digital, and Diverse" (VUCAD2) future.
The President congratulated the Department of Science and Technology (DOST) and the NRCP for successfully organizing the 2023 Annual Scientific Conference.
President Marcos also commended the country's outstanding scientists, researchers, and experts from various fields for their invaluable contributions that form part of the solid foundations of Philippine society. (PNA)