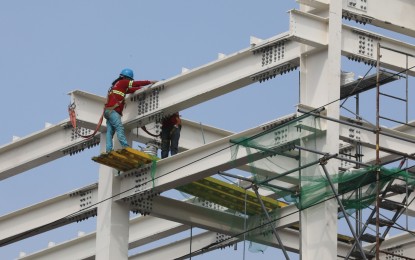 MANILA – The Federation of Philippine Industries (FPI) said Friday a multitude of local businesses as well as job-seekers stand to benefit from the 194 infrastructure flagship projects (IFPs) being rolled out by the Marcos administration over the next five years.
According to the business group's leadership, the PHP9 trillion expected to be spent under the "Build Better More" program will give a much-needed impetus to struggling companies particularly in the steel, cement, glass and construction aggregates sectors.
In an interview, FPI chairman Jesus Arranza said the administration's intention to leverage the public-private partnership arrangement to realize the Philippine Development Plan 2023-2028 can potentially revitalize domestic industries that have long suffered because of swings in the economy and rampant smuggling, among other factors.
Arranza said there is a need to "push the economy forward" in view of the loss of purchasing power resulting from a recent spike in inflation.
"The government must take the lead in perking up the economy and inducing consumption. Investing heavily on priority infrastructure will create many new jobs, which is much better than giving dole outs," he said.
Arranza urged government policy-makers to give preference to locally-manufactured goods in purchases related to its various programs to help sustain struggling companies.
Luna Go, the chair of FPI's labor and productivity committee, welcomed the Marcos administration's proposed trillion-peso spending on infrastructure, saying it promises to stimulate the Philippines' pandemic-stricken job market.
He said many Filipinos who lost their jobs at the height of the coronavirus disease 2019 (Covid-19) pandemic have yet to secure stable employment.
This is especially true for workers in the construction sector, he added.
Among the big-ticket projects that have already been set in motion are the 74-kilometer Metro Cebu Expressway, for which the government is reportedly expected to spend PHP94 billion, and the rehabilitation of the aging Ninoy Aquino International Airport.
Also, among the 194 IFPs are the Metro Manila Subway project and the North-South Commuter Railway project, which were carried over from earlier administrations.
Meanwhile, Go, who is also the president of the Textile Producers Association of the Philippines (TEXPAP), appealed to the administration to accelerate efforts against the alleged technical smuggling of garments from mainland China.
"It is not only us (textile company owners) who are losing our livelihood, but our employees as well," he said. (PNA)