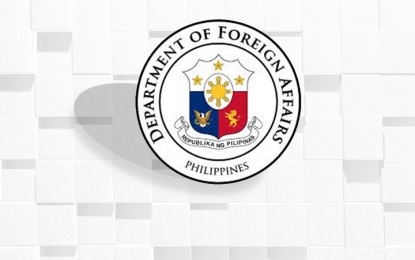 MANILA -- The Philippines' concerns over encroachments in the West Philippine Sea are mainly from a national standpoint and are beyond the growing rivalry between China and the United States.
Foreign Affairs Secretary Enrique Manalo made this clarification as he explained the reason behind Manila's actions in the resource-rich waters against the backdrop of the two major powers' strategic competition in the region.
"Our concerns are mainly from the national standpoint and should not be viewed through the prism of the US-China rivalry," he said in a speech last March 6, a copy of which was furnished to the media on Friday.
Dozens of diplomatic protests had been filed against China under President Ferdinand R. Marcos Jr.'s administration over the illegal presence of vessels and harassment of Filipino enforcement agencies in the West Philippine Sea.
Manalo stressed that these incidents have a "decidedly human element to them" that cannot be simply ignored.
Reclamations in the area also pose "long-term economic costs" to coastal community which is equivalent to the destruction of seven natural world heritage areas, the top diplomat said citing scientists.
Manalo said Manila's approach in dealing with China would be compartmentalized as the maritime row is "not the sum total" of its relations, but it will continue upholding its rights under the international law, including the 2016 arbitral ruling.
At the same time, the country will engage with the United States as Marcos' independent foreign policy is rooted on strengthening bilateral ties with all partners.
'Trading barbs'
China in the past had accused the US, which supported the Philippines and its arbitral win in the South China Sea, for "stirring up trouble" and using the maritime row "to sow discord between regional countries."
It also berated the latter over what it called "zero-sum mentality" for "strengthening military deployment in the Asia-Pacific."
Last month, the Chinese Foreign Ministry also thumbed down a deal to allow US troops to access four more additional sites in the Philippines under the Enhanced Defense Cooperation Agreement (EDCA).
It claimed that this would "escalate tensions and endanger peace and stability in the region" and warned countries to "remain vigilant and avoid being coerced or used by the US."
Meanwhile, Manalo said Manila is committed to EDCA's full implementation as it remains a "key pillar" of the US-Philippines alliance.
"[EDCA] is a key pillar of the Philippine-US alliance, which supports combined training, exercises, and interoperability between our forces. The full implementation of the EDCA will make our alliance more resilient, and will accelerate modernization of our joint military capabilities," he said.
Under EDCA, the two states identify so-called "agreed locations" in the Philippines that would host facilities and structures to where both Filipino and US forces will have access for training, exercises, and humanitarian assistance and disaster response (HADR) activities, among others. (PNA)