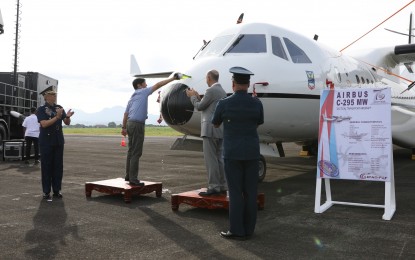 MANILA – The United States Embassy in Manila said a USD24-million airstrip extension and rehabilitation project will break ground at the Cesar Basa Air Base in Floridablanca, Pampanga on March 20.
The military base is one of the five previously identified sites where future facilities and structures would be built under the 2014 Philippine-US Enhanced Defense Cooperation Agreement (EDCA).
The four other "agreed locations" are the Fort Magsaysay Military Reservation in Nueva Ecija; Lumbia Airfield in Cagayan De Oro; Antonio Bautista Airbase in Puerto Princesa, Palawan; and Benito Ebuen Air Base in Cebu.
Under EDCA, Filipino and US troops can access the "agreed location" for training, exercises, and humanitarian assistance and disaster response (HADR) activities.
"On March 20th, we're going to invite our US Secretary of the Air Force (Frank Kendall) to do a groundbreaking on a USD24-million project that will extend the Basa airstrip and rehabilitate (it) to make sure that it's useful," US Ambassador MaryKay Loss Carlson said in an interview with media network GMA on Friday night.
Carlson said the rehabilitation is one of the many projects in the pipeline, which totals USD80 million.
She said the five are part of an "interconnected sort of fabric" of keeping both the countries' people safe.
"It's 365 days a year that our militaries are coordinating and they choose sites for any number of reasons and that's to primarily just ensure the lives and the livelihoods of Filipinos are protected and that US security interests are all so enhanced," she said.
Allaying concerns, the envoy added that an EDCA site is not equivalent to a US base.
In February, the Philippines and the US agreed to designate four yet-to-be-identified EDCA sites to "accelerate" the 2014 deal's full implementation.
Carlson declined to comment when asked about the four locations, saying, "I don't want to get ahead of the Philippine government."
"That's a decision our militaries have come up with what they think is best but I would say we should be able to announce the next EDCA sites within the next several months and then getting the US Congress to appropriate the funds once there is an agreement on where they will go," she said. (PNA)