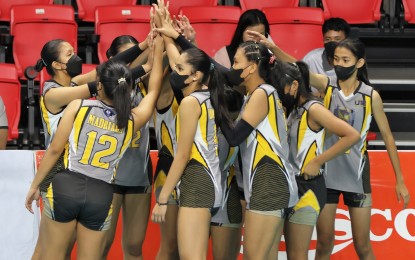 MANILA – California Precision Sports (CPS) of Antipolo City takes on Grace Christian College Foundation (GCC) of Taguig City in the girls' final of the Philippine National Volleyball Federation (PNVF) Under-18 Championships at Rizal Memorial Coliseum in Manila at 2 p.m. on Sunday.
CPS and GCC scored contrasting victories in Saturday's semifinal round to make it to the gold medal match unscathed.
CPS banked on skipper and outside hitter Casiey Monique Dongallo to beat De La Salle Lipa (Batangas), 25-15, 25-20, 25-20, after one hour and 21 minutes.
"It's a great accomplishment for us to be in the final," said the 17-year-old Dongallo, who finished with 22 attacks, two aces and one block.
Middle blocker Jenalyn Umayam scored 16 points -- 14 kills, one block and an ace -- while Joyce Soliven had four aces, three kills and two blocks.
"The girls played well altogether -- every single one of them -- especially on defense. Casiey was fantastic and consistent at the back, putting away key balls when it mattered most," CPS coach Obet Estrella Vital said after the match.
Shane Andrei Dimaano led De La Salle Lipa with 10 points.
GCC, on the other hand, fought back from a first-set loss to conquer Maryhill College of Lucena City (Quezon), 18-25, 25-23, 25-22, 25-17.
Sherrie Rose Acosta topscored for GCC with 24 attacks and three aces. Ashley Muchillas had 14 attacks, two blocks and two aces and Jhoemellin Nadala contributed 10 points.
"Our game plan on our floor defense worked especially against their No. 6 player in the fourth set," said GCC coach JR Watamama Macalanggan, referring to Maryhill skipper Angela Claire Castillo, who had 24 points.
Macalanggan is expecting a tough challenge from CPS, saying "definitely, we will give CPS a good game. We'll give it our best."
The tournament, which is supported by the Philippine Sports Commission, will use the Italian-made Genius Sports video challenge equipment in the final. (PNA)