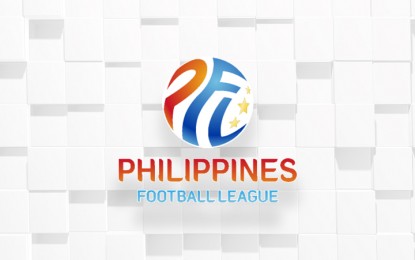 BIÑAN CITY, Laguna – Kaya Iloilo widened its lead anew in the Philippines Football League (PFL) table after beating Stallion Laguna, 3-0, on Sunday night at the Biñan Football Stadium.
Goals in the first half were enough for Kaya Iloilo as the club endured a gallant fight from Stallion Laguna to bring its lead against Cebu for the top spot back to virtually three full matches.
Kaya Iloilo first found the net in the fourth minute when Jarvey Gayoso received Daizo Horikoshi's free kick and found some space in Hayeson Pepito's goal to strike the ball in.
Mar Diano added a second goal in the 13th minute off another set piece, a Jhan-Jhan Melliza corner kick.
Nano Amita put the icing on the cake with a long-range effort in the second-half stoppage time, but not without some threats on the attack from Stallion Laguna for the rest of the first half and most of the second.
Kaya Iloilo is now on 39 points, eight clear of Dynamic Herb Cebu, which has 31.
Cebu, which beat the Azkals Development Team, 2-1, on Saturday night at the Rizal Memorial Stadium in Manila, has two matches at hand.
Stallion Laguna, on the other hand, remains in fourth place with 16 points.
Meanwhile, Maharlika Manila finally scored a win this season after stunning Mendiola on the road, 1-0, at the City of Imus Grandstand.
Zachary Ford scored the lone goal of the match in the 30th minute as he dashed into the penalty box from the left wing and slotted the ball past Michael Asong.
Maharlika Manila is now on four points, just two behind Mendiola, which stayed at six, to get out of the cellar. (PNA)