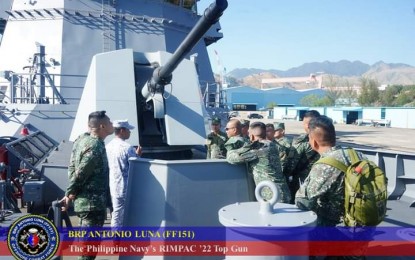 MANILA – The BRP Antonio Luna (FF-151), one of the Philippine Navy's (PN) two guided missile frigates in service, demonstrated its advanced capabilities to the officers and enlisted personnel of the Philippine Marine Corps' Coastal Defense Regiment (CDR).
The CDR is poised to operate the Indian-made Brahmos medium-range ramjet supersonic cruise missile system.
In a post on the frigate's Facebook page on Monday, it said CDR personnel were provided a glimpse of BRP Antonio Luna's advanced system in a "CIC capability demonstration" last March 7.
CIC is short for "combat information center" or the onboard facility responsible for the operation of all the ship's weapons systems and sensors.
"The CDR of the Philippine Marine Corps is postured to operate and maintain shore-based missile systems. The informational programmed visit and series of lectures provided the students a glimpse of fundamentals in missile system operation," it added.
The CDR was formed on Aug. 7, 2020.
"BRP Antonio Luna as one of the leading missile platforms in the PN supports this endeavor as essential in raising awareness, and educate the members of the CDR on their duties and responsibilities ahead," it pointed out.
Former Defense Secretary Delfin Lorenzana and BrahMos Aerospace director general Atul Dinkar Rane signed the PHP18.9 billion contract worth for the BrahMos missile system in a virtual ceremony at the DND headquarters in Camp Aguinaldo, Quezon City in January 2022.
Three batteries of the BrahMos cruise missiles will be acquired by the country under this contract. Lorenzana also said that the BrahMos cruise missiles will greatly beef up the PN's firepower, particularly the Marines' CDR.
He added that the BrahMos cruise missile system will provide counter-attack capabilities within the Philippine exclusive economic zone.
"As the world's fastest supersonic cruise missiles, the BrahMos missiles will provide deterrence against any attempt to undermine our sovereignty and sovereign rights, especially in the West Philippine Sea," Lorenzana said.
The BrahMos cruise missile can be launched from a ship, aircraft, submarine, or land and has a top speed of around Mach 2.8 (around 3,400 km. per hour), and is capable of carrying warheads weighing 200 to 300 kilograms. (PNA)