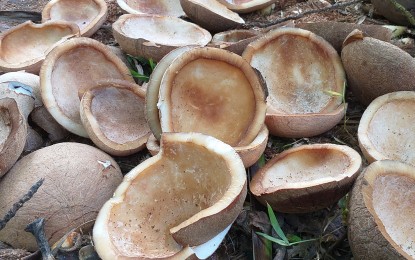 TACLOBAN CITY – The Philippine Coconut Authority (PCA) has noted a decline in copra price in the past few months, but still within a "tolerable" level, an official said on Monday.
PCA Eastern Visayas region manager Joel Pilapil, in a phone interview, said the farmgate price of copra dropped to PHP20 per kilogram as of the first week of March 2023, lower than the PHP42 trading price in the same period last year.
The current trading price is lower than the PHP32.50 recorded in early July 2022 and PHP22 in December last year.
"We don't want this to happen, but this is out of our control. The fluctuating copra price is normal since it is dictated by the global oil market," Pilapil added.
The present farmgate price is "tolerable" for farmers since the PCA has not received calls from local coconut farmers in the region, according to the official.
The global oil market is dominated by palm oil and soybean oil with a share of 35 percent and 26 percent, respectively, according to PCA.
The movement of copra prices has been affecting 367,234 coconut farmers in the Eastern Visayas region.
It is estimated that 1.83 million people or nearly half of the region's 4.4 million population are dependent on coconut.
Copra is the dried meat or kernel of the coconut.
Premium oil is extracted from copra. It also yields coconut cake after oil extraction, which is mainly used as feed for livestock.
The National Economic and Development Authority (NEDA) regional office here said a coconut farming family nets only PHP35,358 a year or PHP2,946 monthly.
This level of income is less than a third of the average income of a family in Eastern Visayas.
The situation is much worse for tenants since they only receive 50 percent of their farm produce, according to NEDA. (PNA)