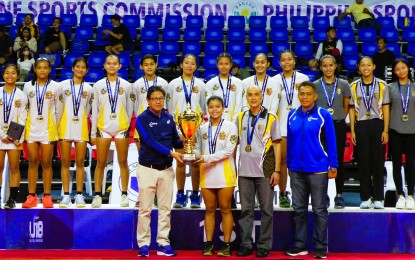 MANILA – California Precision Sports (CPS) of Antipolo City pulled off a 25-14, 25-16, 25-18 victory over Gracel Christian College Foundation (GCC) of Taguig City to capture the girls' title in the Philippine National Volleyball Federation (PNVF) Under-18 Championships at the Rizal Memorial Coliseum in Manila on Sunday.
Middle blocker Jenalyn Umayam had 18 attacks, two aces and one block for the CPS spikers, who entered the final with a 6-0 record and without dropping a set.
Casiey Monique Dongallo, the tournament's Most Valuable Player (MVP) and Best Outside Hitter, scored 15 points, while Joyce Soliven finished with nine points, including three aces.
CPS coach Obet Vital also lauded the performance of veteran Kizzie Madriaga, who earned the Best Setter award.
"She is the quarterback of our team. She knows where to give the ball. She delivers and scores well. Definitely, she did an outstanding job whoever was in the floor with her. She's a playmaker," Vital said in an interview.
The other recipients of individual awards were Shane Andrei Dimaano (Second Best Outside Hitter) and Raizah Nicole Mamailao (Second Best Middle Blocker) of bronze medalist De La Salle Lipa; and Rianne Margaret Bedural (Best Middle Blocker), Lavhinia Jean Sasondoncillo (Best Libero), and Sherrie Acosta (Best Opposite Hitter) of GCC.
Meanwhile, De La Salle Lipa bounced back from a first-set setback to win the boys' title over Santa Rosa City (Laguna), 23-25, 25-20, 25-13, 25-15.
Skipper Kris Gabriel Hernandez had 18 spikes, two blocks and two aces, while Kirby Lance Carurucan and Patrick Jade Reyes contributed 13 and 12 points, respectively.
"This championship is really a dream come true for us, being the PNVF's first ever U-18 champion. We have been dreaming about this for a long time … to play in this kind of tournament here in Manila," said Pedro Perez Jr., who has been coaching De La Salle Lipa for the past 25 years.
Hernandez was named MVP and Best Outside Hitter.
The other awardees were Neil Aldrin Catap (Second Best Hitter) of bronze medalist Justice CM Palma High School-Quezon City; Curt Jan Guillermo (Best Middle Blocker) and Best Setter Clark Dingle (Best Setter) of Santa Rosa City; Jury Cureg (Second Best Middle Blocker) of Mayamot National High School-Antipolo City; and Jeremi Pierre Cuenca (Best Libero) and Patrick Jade Reyes (Best Opposite Hitter) of De La Salle Lipa.
"It proves that volleyball is very much alive in the grassroots and the way these boys and girls played, Philippine volleyball has a big mass base for future members of the national team," said PNVF president Ramon Suzara of the three-weekend tournament supported by the Philippine Olympic Committee and Philippine Sports Commission (PSC).
Technical director Yul Benosa and competition director Oliver Mora supervised the tournament which was participated in by 36 teams -- 20 in the girls' division and 16 in the boys' side.
PNVF vice president Ricky Palou, secretary general Donaldo Caringal and board member Karl Jeffrey Chan, and PSC Commissioner Bong Coo graced the awarding rites.
Up next is the PNVF Under-23 Championships in August, also at the Rizal Memorial Coliseum. (PNA)