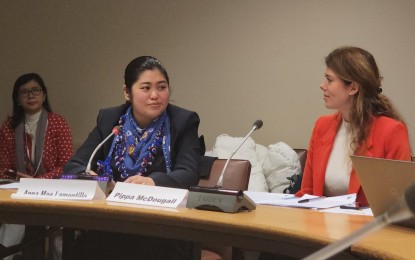 MANILA – An official of the Department of Information and Communications Technology (DICT) highlighted the Philippine government's efforts to reduce the digital divide and digital gender gap during the 67th Session of the Commission on the Status of Women (CSW67) in New York.
In a statement on Monday, DICT Undersecretary Anna Mae Yu Lamentillo, who is part of the Philippine Delegation to the CSW67, said the Philippines is leading among Asian countries in closing the gender gap, based on the 2022 Global Gender Gap Report where it ranked 19th globally.
Lamentillo was among the speakers at the ministerial roundtable discussion on "Good practices in addressing barriers to bridge the gender digital divide and promote education in the digital age for achieving gender equality" during the CSW67, held from March 6 to 17.
She cited several Philippine laws that create an enabling environment where women's and girls' rights and safety are promoted and protected, such as the Magna Carta of Women, Anti-Discrimination Against Women Act, Anti-Violence Against Women and Children Law, and Safe Spaces Act.
The DICT also has programs that aim to bridge the digital divide such as the Free Wi-Fi for All with over 4,000 live sites nationwide, the Tech4ED project, and DigitalJobsPH that improve ICT services in rural areas.
She also mentioned the Digital Cities 2025 program that expands the information technology and business process management (IT-BPM) sector and boosts local economies in the countryside.
"These policies shape the programs that the Philippine government invests in to ensure digital inclusion and gender equality. Our DICT has been implementing programs to bridge the digital divide and digital gender gap," she said.
While these programs seek to promote digital inclusion, she said there is a need to ensure that they also address the digital gender gap.
In line with this, the DICT and the Philippines Statistics Authority conducted the Women and ICT Development Index Survey 2022, the first-ever national survey that aims to generate indicators on how women are able to access and use ICTs.
"Through policies, programs, and initiatives that prioritize digital inclusion and gender equality, the Philippine government is committed to ensuring that no one is left behind, that every individual, regardless of gender, has access to and can fully participate in the digital economy," Lamentillo said.
Data from the survey will provide a comprehensive evidence base for more gender-responsive ICT policies, plans, and programs.
The CSW is the principal global intergovernmental body exclusively dedicated to the promotion of gender equality and the empowerment of women. (PNA)