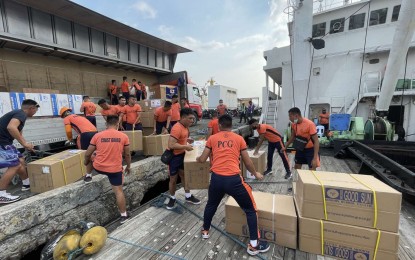 MANILA – The Philippine Coast Guard (PCG) has delivered 5.1 tons of equipment from the Japan Disaster Response (JDR) team to help in the ongoing oil spill cleanup in Oriental Mindoro province.
In an update on Monday, the PCG said the equipment was ferried by the BRP Corregidor (AE-891) on Sunday and included equipment such as oil spill response workwear, masks, oil-proof working gloves, oil-proof rubber boots, oil blotter, and oil snare.
"Afterwards, the JDR team boarded BRP Bagacay (MRRV-4410) and conducted an ocular inspection in the vicinity waters off Naujan (town), Oriental Mindoro," it said.
Meanwhile, the RDC Reield Marine Services (RDC-RMS), owner of the sunken oil tanker MT Princess Empress, said it is working closely with the government, international oil spill experts, and contracted responders to "minimize the impact of oil cargo" from the vessel.
"We are truly sorry that this incident has affected the livelihoods of those living in the impacted areas and the spill's effect on the environment," RDC-RMS said.
It said that the 20 Filipino crew onboard the vessel when it began sinking are all "safe and well."
"We are truly grateful to those who were part of the rescue effort to return them to their families and loved ones," it said.
Oil spill experts, it said, have advised conducting the clean-up in three phases—with the first phase focused on limiting oil reaching the shore.
"Phase two involves the development of a detailed response plan by International Tanker Owners Pollution Federation Limited (ITOPF) and clean-up contractors, outlining the at-sea and shoreline response for different affected areas for the Philippine authorities' approval and implementation," it said.
The third phase, it said, involves delivering a clean-up plan with "ongoing engagement with government authorities and other stakeholders."
"ITOPF will lead a series of joint surveys of affected sites with key stakeholders to formulate and implement effective clean-up plans with shared agreement on when to end operations," it said.
It noted that those affected by the oil spill will soon be advised on how to submit their claims to the company's insurance providers.
"We must, however, emphasize that the immediate priority has to be the coastal clean-up, which directly impacts the lives of the communities who depend on the sea," it said.
Last week, Japan announced its plans to send a disaster relief expert team on oil removal and control to support the Philippines with the oil spill cleanup off Naujan, Oriental Mindoro.
Aside from diesel used by MT Princess Empress, the tanker was carrying around 800,000 liters of industrial fuel oil when it experienced engine trouble and eventually sank on Feb. 28. (PNA)