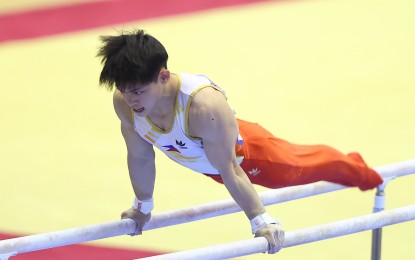 MANILA – President Ferdinand R. Marcos Jr. on Monday commended Carlos Edriel Yulo for another glory and honor he brought to the country after winning two golds in the third leg of the Artistic Gymnastics World Cup held on March 9-12 at the National Gymnastics Arena in Baku, Azerbaijan.
"We celebrate another shining moment in the world of gymnastics with Carlos Yulo's double gold medal victory at the 2023 FIG Artistic Gymnastics World Cup Series in Baku, Azerbaijan. Congratulations, Carlos, and keep making history!" the President said on his Facebook page post.
Yulo, who was born and raised in Manila but is now based in Japan, displayed his awesome form to claim the gold medals in the men's vault and parallel bars.
He tallied 15.400 points to beat Illia Kovtun of Ukraine (15.366) in the parallel bars event. Cameron-Lie Bernard of France (14.600) placed third.
He scored 14.933 points to win the vault title over Harry Hepworth of Great Britain, who scored 14.816 points. Wai Hung Shek of Hong Kong was third with 14.716.
Aside from Yulo, the other gold performers were Coline Devillard (women's vault) and Marine Boyer (women's floor exercise) of France, and Milad Karimi (men's floor exercise) and Nariman Kurbanov (men's pommel horse) of Kazakhstan.
The fourth and final leg of the World Cup series is scheduled on April 27-30 in Cairo, Egypt.
Earlier this month, Yulo won three medals -- gold in floor exercise, silver in parallel bars and bronze in vault -- in the second leg at the Aspire Dome in Doha, Qatar.
In February, he won the parallel bars bronze medal during the first leg in Cottbus, Germany. (PNA)