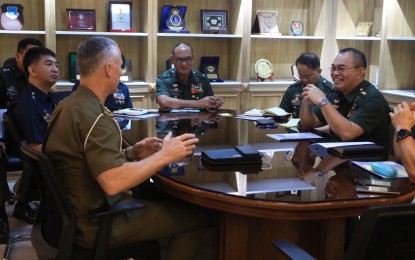 MANILA – The military chiefs of the Philippines and Australia renewed their commitment to upholding regional peace.
This came following the phone call between Armed Forces of the Philippines (AFP) chief of staff Gen. Andres C. Centino and Australian Chief of Defense Force Gen. Angus Campbell on Monday.
"The phone call meeting marked solid military coordination between the Philippines and Australia as partners in keeping the peace and stability in the South Pacific region," AFP public affairs office chief Col. Jorry Baclor said in a statement Tuesday.
Centino and Campbell's phone conversation came ahead of the announcement of the Australian government, in collaboration with the United States and the United Kingdom, of its transition to conventionally-armed and nuclear-powered submarines.
"General Campbell informed the CSAFP (Chief-of-Staff AFP) of this development and assured his counterpart of their continued coordination," Baclor said.
Centino, meanwhile, thanked Campbell for the Australian government's continued support and participation to the 38th edition of the Philippine-US Exercise "Balikatan" which opens on April 11.
Joining the CSAFP in the call were Maj. Gen. Jose Maria Cuerpo II, the Deputy Chief of Staff (DCS) for Personnel, J1; Maj. Gen. Jeffrey Hechanova, DCS for Plans, J5; Brig. Gen. Fernando Reyeg, DCS for Operations, J3; Brig. Gen. Ferdinand Barandon, DCS for Intelligence, J2; Brig. Gen. Noel Beleran, DCS for Education, Training, and Doctrine, J8; Col. Leo Edward Caranto, Acting DCS for Logistics, J4; Lt. Col. Mark Allan Gavilan, Chief AFP International Military Affairs Center; and Australian Assistant Defence Attache Lt. Col. Tim Lopsik.
PAF gets CAS simulator from Australia
As this developed, the Philippine Air Force (PAF) formally accepted from the Australian government a close air support (CAS) part-task trainer (PTT), classroom and debriefing facility on Monday.
"Another milestone was unlocked after the PAF, together with officials from the Australian Embassy, held a ceremony for the formal acceptance, turn-over, and blessing of the new PAF CAS PTT classroom and debriefing facility on March 13, 2023. The ceremony was held at Col. Ernesto Ravina Air Base, Capas, Tarlac graced by the Ambassador of Australia to the Philippines, Her Excellency Hae Kyong Yu PSM as the guest-of-honor," PAF spokesperson Col. Ma. Consuelo Castillo said in a statement Monday night.
The donated technology-based facility is the very first standard air-conditioned facility of the 710th Special Operations Wing which will allow both the students and the training staff to experience, acquire and enhance skills in a conducive learning environment.
"Relatedly, the CAS PTT simulator will allow combat air controllers to acquire almost full sensory experience during the conduct of close air support exercises, thus enhancing proficiency, preventing accidents and saving operational costs," Castillo added. (PNA)