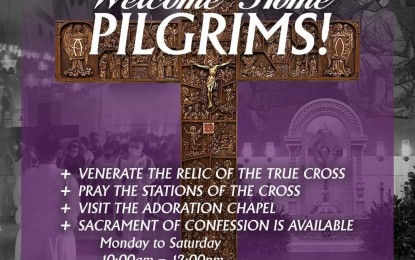 MANILA – The Manila Cathedral has opened its doors to pilgrims for the Lenten season.
In a social media post Tuesday, the Minor Basilica of the Immaculate Conception invited the public to visit the cathedral this season.
"Welcome home, Pilgrims! As Lenten pilgrimages begin, we welcome all of you to the Manila Cathedral, the Mother Church of our country. We hope that your visit to our Cathedral will truly be a spiritual experience to prepare ourselves for the worthy celebration of the Paschal Mystery of our Lord," it said.
The Manila Cathedral added that they prepared other religious activities related to the season.
"You can venerate the Relic of the True Cross of our Lord Jesus Christ which we will expose to the public for the Lenten season," it said.
"You can pray the Stations of the Cross around the Cathedral. We have opened the Adoration Chapel of the Cathedral for quiet personal prayer," the advisory read.
For those who would like to make confession, the Sacrament of Confession is available from Monday to Saturday, 10 a.m. to 12 noon.
It also encouraged the people to light votive candles in front of the image of the Immaculate Mother, the principal patroness of the Manila Cathedral and the whole Philippines.
The observance of the 40-day Lent started on Ash Wednesday which fell on Feb. 22 and will end on April 9 (Easter Sunday).
For this year, the Holy Week is from April 2 (Palm Sunday) until April 9. (PNA)