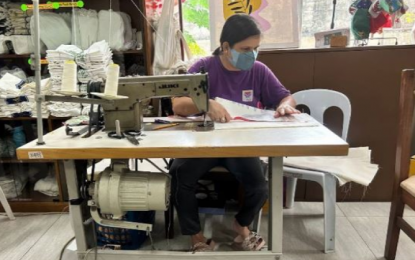 MANILA – The Department of Social Welfare and Development (DSWD) continues to live up to its mandate to protect and promote the welfare of all Filipinos, including persons with disabilities (PWDs) by empowering them to become more productive members of society.
Among the DSWD facilities that exhibit this goal are the Rehabilitation Sheltered Workshop (RSW) and the National Vocational Rehabilitation Center (NVRC), both located in the National Capital Region (NCR).
Annalyn Bautista Luyao, a 45-year-old resident of Quezon City, is among those who have benefited from the services and interventions provided by the DSWD's Centers and Residential Care Facilities, intended for persons with disabilities, such as the NVRC and RSW.
"Iba pa rin pala na may center para sa PWD, nailalabas mo talent mo (It pays that we have centers for persons with disabilities that hone our talents)," she said in a news release on Tuesday.
As someone who had a deformed leg after suffering from polio in childhood, Annalyn's narrative proves that the DSWD has become a lifeline for persons with disabilities, especially with the struggles and challenges they face on a daily basis.
Enhancing skills with no limitations
While listening to a radio program during siesta time, Annalyn learned about the centers for PWDs that are being run by the DSWD, offering skills training. After hearing about this good news, she inquired at the NVRC located at J.P Burgos St., Project 4, Quezon City.
Annalyn, then, got officially enrolled in a Fashion Technology course at the NVRC in 2006. She underwent one year of training to learn tailoring and dressmaking, and enhance her skills in socialization and work ethics.
The NVRC, as a learning environment for persons with disabilities and other vulnerable groups, aims to help its enrolled trainees achieve the best possible adjustment to their disabilities and work toward social reintegration. It also aims to develop the independent skills and positive attitude of the trainees.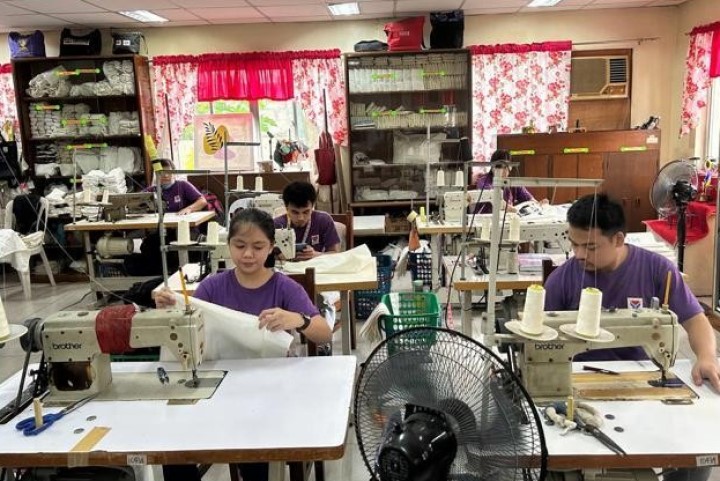 After careful evaluation by the trainers and social workers at the center, Annalyn was enrolled in the course of her choice that also best suited her talents. She was also trained through a series of in-person classes and homeschooling, helped with her on-the-job training, and got assisted with job placement.
After her graduation, she went to the hometown of her husband in Samar, Leyte. There, she was able to use her training to find an employer. Annalyn was then able to work in a local dress shop, as a "mananahi" or seamstress.
"Kung 'di sa NVRC wala po, hindi ako marunong [manahi] (If not for NVRC, I will not be able to learn dressmaking)," she said.
Aside from Fashion Technology, which Analyn took, the NVRC also offers courses, such as computer software, electronic servicing, hotel and restaurant services, housekeeping and janitorial services, massage therapy, and beauty services.
About 170 individuals are currently enrolled in the different courses offered by the NVRC. Last year, more than 140 beneficiaries have already graduated.
Inclusive and sustainable employment
When Samar, Leyte was devastated by Typhoon Yolanda in 2013, Annalyn, together with her husband and two children, went back to Manila with hopes of recovering from the disastrous effects and that they could start a new life in the city.
However, Annalyn experienced difficulties in applying for a tailoring job due to her condition.
"Noong una kapag nag-apply ka sa labas parang hindi ka tatanggapin kasi PWD ka (When you apply for a job, you will not be accepted because you are a person with disability), she shared.
Until Annalyn tried to apply at the RSW, where she also had her internship for her fashion technology course during her training at the NVRC. Since 2017, she has been employed at the RSW, practicing her expertise in tailoring and dressmaking.
For her, the opportunity of sheltered employment, given by the RSW, is beneficial and helpful for someone like her, who has a disability. Analyn is grateful to work in an environment where discrimination has no space and where she and her workmates are given equal livelihood opportunities.
In RSW, sheltered employment provides productive work and income-generating activities for its project workers, including Annalyn. It is a business-work-oriented facility of the DSWD that offers employment opportunities for persons with disabilities so they will become gainfully engaged in productive work, hence contributing to the community.
Other projects in the facility include the production of wood and metal products, garments, and silk screens. To date, 105 project workers in RSW are provided with livelihood opportunities.
Annalyn's story proves that the DSWD, through its centers and facilities, empowers persons with disabilities to become contributing members of society, and economically sufficient by providing equal opportunities for all, regardless of status, and condition. (With Zaldy De Layola/PNA)