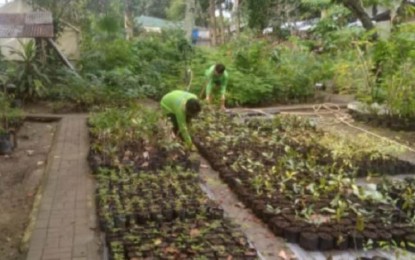 ILOILO CITY – As part of its advocacy to grow native trees, the city government will be planting on a 10-kilometer road stretch from the service road of the Iloilo International Airport going to Barangay Ungka in the municipality of Pavia.
"If we plant at around 10 meters interval, we will be needing 2,000 native seedlings," said Iloilo City Executive Assistant Armando Dayrit in an interview on Tuesday, adding that they will be planting 1,000 trees each side of the service road.
Dayrit said Mayor Jerry Treñas would like to make an impression, especially from those coming from the airport that Iloilo is environment-friendly, as among the first things they will see upon landing are the rows of trees along the service road.
Currently, not many trees can be seen except for the Royal Palm planted at the middle road, he added.
"In my own point of view, it also helps to have tree canopy in Iloilo because we can only see that near Camp Delgado. The requirement is that when a person goes out of his/her house, he/she can see at least three trees within the next 30 meters and a tree park after 300 meters," Dayrit said.
Camp Delgado is the regional headquarters of the Philippine National Police in Western Visayas situated along Fort San Pedro here.
Treñas, in an interview Monday, said he has already secured the approval of the Civil Aviation Authority of the Philippines and the Department of Public Works and Highways for the initiative.
He will also be issuing an executive order requiring all real estate developers, barangay officials, and school heads to plant native trees in their areas every year.
The city government also pushes for the planting of native trees in all open spaces of subdivisions in the city.
Dayrit said he targets to plant native trees in 75 vacant spaces owned by the city government from out of the 134 subdivisions in the city.
"Every subdivision has to have a tree park as required by the law," he said.
Currently, the city government's nursery has around 15,000 to 16,000 seedlings in Barangay Caingin, La Paz district; with around 10,000 are native species.
Native trees are those that are endemic in the Philippines, Dayrit added. (PNA)