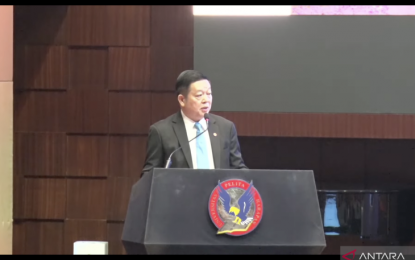 JAKARTA – A common currency and monetary union for the Association of Southeast Asian Nations (ASEAN) region are not a priority right now as there are many other agendas that need attention, ASEAN secretary-general Kao Kim Hourn said on Monday.
Speaking at a public lecture at Universitas Pelita Harapan, Tangerang, Banten, he highlighted that post-Covid-19 pandemic recovery is the top priority in ASEAN today.
"I think the idea of monetary union has been discussed since 20 years ago. There were ideas and discussion but, of course, there's still a long way to go because we have other priorities now," he said.
In addition to post-pandemic recovery, the other current priorities are ASEAN connectivity, the blue economy agenda and increasing intra-ASEAN trade, Hourn said.
"These are really the priorities. When it comes to monetary union, it's still very much in disconfusion," he said.
Nevertheless, Indonesia, which is serving as the ASEAN chair this year, has proposed the development of regional payment connectivity for supporting cross-border payments in the region.
The central banks and financial authorities of five countries--Thailand, Indonesia, Malaysia, the Philippines and Singapore—have signed a memorandum of understanding on boosting regional cross-border payments. The QR code systems of the five countries are expected to be linked to achieve this.
Since the signing of the agreement on regional payment connectivity in November 2022, cross-border QRIS has only been used in Thailand. (Antara)