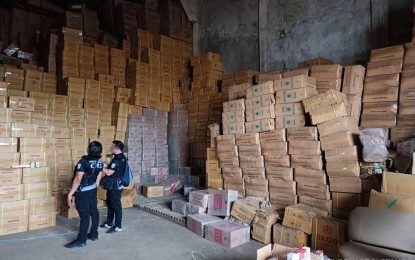 MANILA – An operation led by the Bureau of Customs (BOC) Intelligence Group (IG) recently confiscated counterfeit cigarettes valued at PHP1.4 billion at a warehouse in Sulu province.
In a statement Tuesday, Deputy Commissioner for IG Juvymax Uy said the operatives found 18,533 master cases of assorted imported cigarettes during the inspection on March 2.
The confiscated items bearing brands of Bravo, New Far, BPBM, Billionaire, Cannon, Souvenir, Astro, Wilcon, New D' Premier, B&E Ice, and Fort.
The inspection was conducted after the Customs Intelligence and Investigation Service (CIIS) headed by Director Verne Enciso, received information about the warehouse containing smuggled cigarettes.
The BOC-IG immediately acted on the report and issued a Letter of Authority signed by Customs Commissioner Bienvenido Rubio.
"Remember that this happened in Sulu, in Indanan (town). Yet, despite how far Mindanao is from us, we made sure that distance won't stop us from serving the LOA," the BOC official said in a statement.
"Simply put, we will stop at nothing, and we will be present in every corner of the Philippines to make sure there won't be space for these illegal activities," he added.
The Port of Zamboanga will issue a warrant of seizure and detention (WSD) against the subject smuggled cigarettes for possible violations of Executive Order No. 245, also known as "Amended Rules and Regulations Governing the Exportation and Importation of Leaf Tobacco and Tobacco Products," National Tobacco Administration (NTA) Memorandum Circular No. 03, series of 2004; NTA Board Resolution No. 079-2005 in relation to Sec. 1113 (f and Sec. 117 in connection to section 1401 of R.A. No. 10863 otherwise known as Customs Modernization and Tariff Act (CMTA) of 2016.
For his part, Rubio attributed the success of their operations to the streamlined procedures and coordination between all BOC offices, collection districts, and partner agencies.
"We will continue to modernize our information-sharing systems and enforcement assets to ensure that we are a step ahead against unscrupulous importers," he said.
The operation was in cooperation with troops from the Western Mindanao Command-Armed Forces of the Philippines (WESMINCOM-AFP), 11th Infantry Division, Philippine Army (11ID P.A.), Philippine Air Force-Special Operations Wing (PAF-SPOW), Joint Task Force (JTF)-Sulu, Philippine Navy-Naval Special Operations Unit (PN-NAVSOU), and PN Naval Forces Mindanao. (PNA)