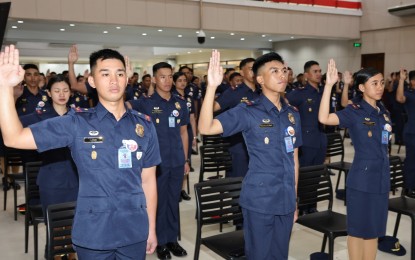 MANILA – Philippine National Police (PNP) chief Gen. Rodolfo Azurin Jr. on Tuesday called on the 186 new police officers from the PNP Academy's Masidtalak Class of 2023 to uphold accountability and show dedication to service.
"Let us remember the significance of this occasion. The badge of honor ceremony is not just a simple oath-taking ceremony and conferment of authority to wear the badge but an acceptance of responsibility as well as accountability as police officers and about utmost dedication to police service. This ceremony marks the beginning of a new chapter in your lives as full fledged police officers and members of the PNP and with it comes great responsibility," Azurin said in his speech during the badge ceremony for the new police officers at the PNP headquarters in Camp Crame, Quezon City.
Azurin also apologized for skipping the batch's commencement exercises last March 10 as he was out of the country.
He also urged the new police officers to be entrusted with the task of maintaining peace and order, upholding the rule of law, and protection of the communities from threats and dangers.
"I want to commend you for choosing this noble profession. You have taken a path that not everyone has the courage to tread upon and the opportunity to serve the Filipino people and our country. As we celebrate this momentous occasion, I would like to remind you of the PNP's peace and security framework under my watch, the M+K+K=K or the Malasakit+Kaayusan+Kapayaan= Kaunlaran. This framework is a reminiscent that we should embody as public servants and how we should approach our work in maintaining peace, order, and safety in our communities," said Azurin.
Azurin also told the new cops to uphold their commitment to service the people "with all their heart and soul."
"I urge you to keep in mind this framework and to uphold them in everything you do. Remember that you are now wearing the symbol of authority. Serve the people with character and probity. You have received quality education and training from the PNP Academy and now it is up to you to use it to make a positive difference in the lives of others," he stressed.
The country's top cop also noted that as the youngest police officers age should not be a hindrance to imposing discipline, to lead in the field regardless of experience, regardless of age because at the end of the day, we officers will be questioned about the misgivings and shortcomings of police non-commissioned officers (PNCOs).
Azurin said young police officers should do their job to prevent, preempt and solve crime and also to develop a strong relationship, with the community that they are serving and primarily need to take care of their safety.
"Sa amin dito is we just give our guidance. Kung hindi niyo susundin, definitely may karampatan na kaparusahan yan but for every misgiving or every shortcoming na gagawin ninyo sa field especially if it becomes sensational, hindi ninyo kasalanan, hindi kasalanan ng PD (Provincial Director), hindi kasalanan ng RD (regional Director), kasalanan ni Chief PNP (To us here, we just give our guidance. if you don't follow it, there is definitely a proper punishment, but for every misgiving or every shortcoming you do in the field especially if it becomes sensational, if it is not your fault, if it is not the fault of the PD (Provincial Director), if it is not the fault of the RD (Regional Director), it is the fault of the Chief PNP)," said Azurin.
The 186 new police officers are part of the 208 members of the PNPA Masidtalak Class 2023.
From this figure, 11 joined the Bureau of Jail Management and Penology (BJMP) while another 11 joined the Bureau of Fire Protection. (PNA)