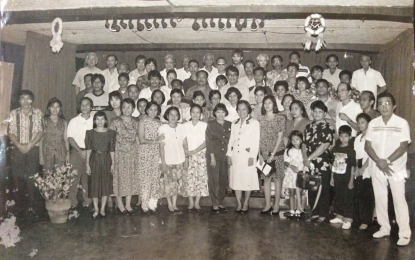 MANILA – In connection with the celebration of the 50th anniversary of the Philippine News Agency this month, I was requested by its newly-appointed executive editor, Demetrio "Jun" B. Pisco, to write an article about the former PNA staff members, specifically on the subject "where are they now?"
I said "yes" without much ado. I was then thinking that it would be a very easy task since I served as the first PNA national news editor when it was organized on March 1, 1973 as the government's official newswire service arm. Although I retired as its executive editor in 2004, I continue to visit its editorial offices in Quezon City every now and then.
As I sat in front of the laptop to begin the article, I found it was not that easy. For one thing, I had to recall hundreds of names of people who had worked at the PNA editorial offices in Manila or Quezon City, as well as at its various branches across the country in the past five decades, either as editors, deskmen, reporters, photographers, editorial assistants, researchers, teletypists, messengers, copy boys and other related tasks.
For another thing, it was difficult to find out the present whereabouts of all those people now: What they have been doing or have done, or where they have settled. Many of them might have gone into retirement, and worst, some might have departed from the journalism field forever.
I decided to do three things: (1) Search my disarrayed files; (2) Communicate with some of the former PNAers via Facebook through the Group Ex-PNAers; and (3) Go over the pages of some of the daily newspapers I could find in our place in Novaliches.
Luckily, I found a list of former PNAers handed to me by former editorial assistant-reporter Ma. Lourdes C. Casimiro shortly before she retired a few years back. It contained more than 300 names of those who have worked at PNA in various capacities between 1973 and 2008.
I noticed it was incomplete, so I added some names I was able to recall and added the cross sign after the names of those I know have gone beyond the journalism field.
Heading the list were eight PNA general managers from 1973 to 2008: Jose L. Pavia, Vicente Maliwanag, Vergel O. Santos, German C. Galian, Gil H. Santos, Ernesto Banawis, Jorge S. Reyes and Casiano Navarro. Among them, only Vergel O. Santos and Galian are still around.
Listed as executive editors were Severino C. Samonte and Iluminado M. Varela Jr. (RIP), followed by managing editors Renato B. Tiangco (RIP), Gene Ramos and Jake Espino (RIP).
As the list did not indicate "where the former PNAers are now," I resorted to scanning the pages of some newspapers and communicating with the Ex-PNAers' Group in FB.
Prior to the Feb. 22-25, 1986 People Power Revolution at Epifanio Delos Santos Ave. (EDSA), it was very easy to find out where the former PNAers were connected. One only needed to look at the pages of the national newspapers and their names could be found either in the editorial box or before their bylined stories in the national and local news pages or business, features and sports sections.
This was because during the 1974-1988 period, a number of PNA editors, deskmen and reporters transferred to other media outfits on account of higher salaries and better opportunities. They included Ramon Tulfo, Leo Deocadiz, Angel Sambo, Rey Panaligan, Fred Gabot, Fred Mabalot, Sammy Gabot, Teresa Tunay, Malou L. Sayson, Macon Ramos Araneta, Marlyn Arquinez, Benjie Ayllon, Jaime Panesa, Jose Garcia, Alito Malinao, Aurora V. Alambra, Tony Nieva, Cip Roxas, Tito Tagle, Jorge Reyes, Fel Margay, Joem Macaspac III, Arthur Gallego, Larry Molina, Olaf Giron, Teddy Ramos, Bert Corvera, Ely Amoroso, Abel Ulanday, Raul O. Marcelo, Adlai Noel Velasco, Rene Alviar, Cesar Bilowan, Rudy Brul, Joseph Lariosa, Gloria Hernandez-Grejalde, Diana Mendoza, Ma. Theresa Cura, Lolit Rivera Acosta, Nick Legazpi, Danilo Junco, Edgar Mahilum, Gabriel Mabutas, Johnny Nuñez, Rolando Espina, Roman Floresca, Lito Tacujan, Percival Della, Gerry Carpio, Eddie Alinea, Jimmy Cantor and several others.
From the Business section of the Manila Bulletin, I read that former PNA senior news editor Bernie Cahiles-Magkilat is now that paper's assistant business editor. With her in the same newspaper as reporters are former PNAers Myrna M. Velasco and Jean M. Fernando, who is also a director of the National Press Club (NPC) of the Philippines.
In the Business Mirror, there are at least two former PNAers. They are former News and Information Bureau Assistant Director-PNA General Manager Vittorio "Vot" Vitug and Angel R. Calso, Opinion-Features editor. The former executive editor of the same paper, Virgilio "Jun" Vallecera, was also a former PNA senior reporter.
In the Philippine Daily Inquirer, there are three former PNA staff members, namely: Raul O. Marcelo, associate editor; Adlai A. Noel Velasco, World News editor; and Abel S. Ulanday, Online editor.
In the Manila Standard, appearing as the Opinion editor is Honor Blanco Cabie, former PNA Foreign News and Features editor. With him as reporter in the same paper is former PNAer Vito Barcelo.
Now writing a column at the Manila Times is former PNAer Marlen V. Ronquillo.
Sherrie Ann Torres, a former PNA senior reporter, is now a broadcast journalist at ABS-CBN. She is among the recipients of the outstanding alumni award from the Novaliches-based Metro Manila College in connection with that institution's celebration of its 75th anniversary last March 4.
Some former PNAers became lawyers while connected with the agency or after they transferred to other media outfits. They included George Dee, erstwhile public information officer of the Department of Justice and now retired Senior Laguna provincial prosecutor; Leo Reyes, provincial prosecutor of Cagayan before he died; Soc Maranan, former city editor of Balita; Norbi Eding, a former town mayor in Zamboanga del Norte; Redentor Viaje; and Comelec provincial election supervisor Salud Milagros "Tictac" Villanueva.
Carol E. Espiritu, chief of business-economics reporters of PNA before the EDSA revolt, became a director of the Cultural Center of the Philippines (CCP). She is now connected with the Development Academy of the Philippines in Tagaytay City.
Former senior reporter Lulu R. Principe is operating an Alternative Learning System-Literacy Reform Program (ALS-LRP) in Los Baños, Laguna, where she was also once a municipal councilor.
Purita S. Licas, former PNA Bureau chief in Tuguegarao City, is now the regional director of the Philippine Information Agency (PIA) in Region 2 or Cagayan Valley.
Former senior reporter Luzi Ann Javier is connected with the United States-based business-economic newswire service Bloomberg.
Gene Ramos, former managing editor, is in New York where he retired from the business-economics wire service Reuters in 2014.
Ruben B. Cal, who was once an acting executive editor, is a book writer and continues to contribute feature stories to PNA.
At present, Leo A. Deocadiz is in Hong Kong and is publishing the newspaper "The Sun Hong Kong" which is edited by his wife, Daisy Catherine L. Mandap.
Joel C. Atencio is teaching at the Batasan National High School in Quezon City.
Cerge Remonde, a former staff member of PNA-Cebu bureau, became a press secretary during the second half of the term of former President Gloria Macapagal-Arroyo.
Former Agriculture Secretary Emmanuel Piñol used to be a PNA editor and sports writer before he transferred to Tempo in the second half of the 1970s and later on became vice governor and governor of his native North Cotabato province.
Leonardo V. Micua, retired PNA bureau chief in Dagupan City, Pangasinan, continues to write in the weekly Sunday Punch.
Through the years, a number of PNAers have retired from the government service, migrated to other countries, joined other professions, or gone forever, meaning writing "30" in the journalism field.
Former PNA editors who have written "30" included Danilo C. Taguibao, Diosdado Beltran, Cesar Bilowan, Lynda Valencia, Roque Calicdan, Teddy Cecilio, Fred Rosario, Alfonso Labita, Henry Redula, Delfin Perez, Benny Luzentales, Fred Roxas, Satur Apoyon, Roberto Capco and Nene Bondoc Ocampo.
Among those who have gone abroad are former business editor Rufino O. Rogel in San Francisco, California, senior reporter Raul A. Zamuco in Australia, and provincial bureau chief Roberto Galicia in Canada.
Those who have retired after being part of the PNA English-Filipino Broadcast Desk include Ver C. Sagun and Doming M. Panganiban.
Although most of the names in the list have not been mentioned in this article, this writer assures them they have not been forgotten as their names remain in the heart. (PNA)