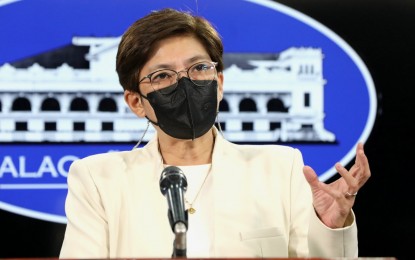 MANILA – Around 8 million Covid-19 vaccines will expire from March to October this year, a health official bared Tuesday.
In a media briefing, Department of Health officer in charge Maria Rosario Vergeire noted that there are 15.3 million jabs that are expected to expire.
"Tatanggalin natin 'yung almost 7 million na inaantay pa po natin ang decision ng FDA [Food and Drug Administration] together with the manufacturers who have applied kung ma-re-re-extend natin 'yung shelf life nila (We will remove the almost seven million for which we're awaiting the decision of FDA together with the manufacturers who have applied, if their shelf life could be re-extended)," she said.
"We have from March until October that we're looking at which are to expire vaccines, and this would comprise around 8 million kasi aalisin natin 'yung naka-quarantine (because we'll remove those quarantined) which are waiting for re-extension," she added.
As for the Covid-19 vaccine wastage, Vergeire clarified that it does not include the expiring jabs only but also those that were wasted due to fire, temperature excursions, natural disasters, and other incidents.
"It's still the same, our figure is 44 million, comprising of the total wastage for the entire Covid-19 vaccination program," she said.
The Department of Health (DOH) has made Covid-19 vaccines more accessible to people by integrating them into the regular vaccination programs in the local facilities.
Earlier, the DOH assured the public that the vaccines were disposed of in a safe manner based on the standards provided by the Department of Environment and Natural Resources. (PNA)