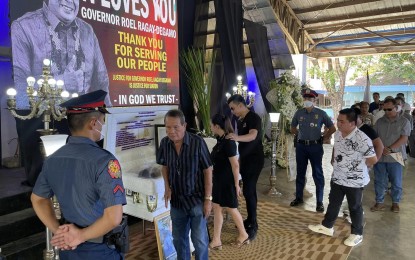 MANILA – The Supreme Court (SC) has granted the request of the Department of Justice (DOJ) to transfer to Manila the trial of the suspects in the killing of Negros Oriental Governor Roel Degamo and eight others.
DOJ Secretary Jesus Crispin Remulla wrote to Chief Justice Alexander Gesmundo and Court Administrator Raul Villanueva on March 9 that it "anticipate(s) the filing of other cases related thereto, considering the number of victims who are yet to file their complaints."
The DOJ chief cited logistical difficulties of conducting the trial in Negros Oriental province since the respondents are already detained at the National Bureau of Investigation custodial center in Manila.
Remulla added that the facilities in the province may not be adequate and could cause security issues.
After deliberating en banc, the SC statement on Tuesday said Villanueva "is completely in agreement and convinced that, taking into account the reasons cited by Secretary Remulla, the venue of the cases should be transferred to the RTC (Regional Trial Court) of Manila."
The Court Administrator said "a change of venue to Manila would be in the best interest of all parties involved" and it "will provide a neutral venue where the trial can be conducted fairly and impartially, free from any undue in-fluence or bias."
Remulla likewise stated in his request that the killing in Pamplona town on March 4 has created a hostile environment for the respondents and may lead to intimidation and harassment of the suspects, private complainants, and other witnesses.
For "all future cases" that may be filed in relation to the subject charges now pending before the courts in Negros Oriental, Villanueva recommended that the SC may also order the transfer to the Manila RTC.
Degamo's wake was transferred from the provincial capitol to his hometown in Siaton town on Monday.
Earlier charged were four former soldiers arrested in follow-up operations -- Benjie Rodriguez, Joric Labrador, Joven Javier, and Osmundo Rivero -- and other John Does.
Thirteen more criminal charges would be filed against the suspects, according to Department of the Interior and Local Government Secretary Benjamin Abalos Jr. on Monday.
They were earlier slapped with six cases of frustrated murder, eight for murder, one for illegal possession of firearms and two for illegal possession of explosives.
Aside from the nine killed, 15 were injured. (PNA)