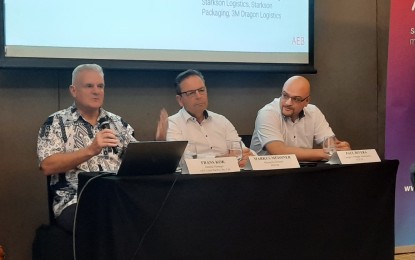 MANILA – Digitizing the logistics sector through the use of technologies, such as supply chain management system and digitizing the process of customs filing, will help the country's main port to alleviate congestion, according to a logistics technology firm executive.
In a press briefing in Taguig City Tuesday, AEB (Asia Pacific) Pte. Ltd. general manager Frans Kok said the use of digital infrastructure is imperative as there are no more opportunities to physically expand the Manila Port.
Kok said this will provide timely data to manage the movements at the port, tracking and tracing of shipment, seamless communication across the supply chain and accelerate business processes, among others, to prevent bottlenecks.
"This is not just an issue that we're working on in the Philippines but many of the developing countries face exactly the same issue. Most of the ports, historically have been built in the capital like Manila. But of course, from a supply chain perspective, that immediately gives him a congestion problem," he said.
Kok said Philippine ports have to keep up with technology as the domestic logistics sector is expected to grow by 8 to 10 percent.
There is also an annual shortage of 50,000 pallet locations in local warehouses.
The current situation in ports across the country can further aggravate if digitization will not be applied, as businesses are aggressive in their expansion activities post-pandemic.
"We have seen the traditional players in the market grow, but we also see new players entering this market. It's a business opportunity for them," he added.
Kok suggested the need to focus on opportunities in cold storage business in the country.
He said the demand for warehouses and cold storage facilities boomed during the pandemic when mobility restrictions spurred the growth of electronic commerce, especially clothing, home articles and food.
"Of course, supply chains were disrupted. There were less flights, there was less movement of goods. So, it was important that the goods were stored locally and stored for longer periods of time so that the government could ensure that there was sufficient food for everybody to eat. Cold storage is of course very important when it comes to perishable and fresh goods," he added.
AEB established its presence in the Philippines in 2016.
It rolled out its warehouse management system, a cloud-based software application tailored to the needs of the industry.
AEB's key partners in the Philippines include Royale Cargo Cold Storage, South Alps Cold Storage, Starkson Logistics, Starkson Packaging and 3MD Logistics.
Meanwhile, the company will hold the Supply Chain Trilogy 2023 this March 15 at the BGC Arts Center in Taguig City.
This technology conference caters to supply chain leaders and logistics professionals for them to remain updated on industry trends, strategies and the latest technologies for the future of supply chain management and logistics. (PNA)