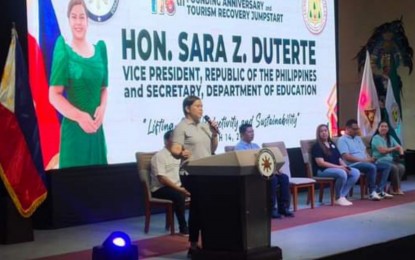 BACOLOD CITY – The City of Kabankalan in Negros Occidental province has asked the assistance of Vice President Sara Duterte for the completion of the airport in the southern Negros city.
In a statement posted on Tuesday night, Mayor Benjie Miranda said Duterte told him during her visit here to prepare the related documents for submission to her office.
Duterte was the guest of honor and keynote speaker during the city's 116th Founding Anniversary and Tourism Recovery Jumpstart event held at the K-Center gymnasium on Tuesday afternoon.
"I asked her to help us complete the construction of the airport so it would be easier for us, and she answered 'Okay, prepare the documents'. I will also send a letter to her to request for a tourist rest area," he added.
In her message, Duterte said the Office of the Vice President will support the city's Tourism Recovery Jumpstart program and will endorse it to the Department of Tourism.
Duterte shared that Davao City, where she served as mayor, focused on Meetings, Incentives, Convention and Exhibits or MICE as its tourism strength, and Kabankalan or any other local government unit (LGU) must identify and institutionalize its tourism attractions.
Tourism is a key pillar of economic growth, wherein the partnerships between LGUs and the private sector is vital, Duterte said.
The Vice President urged LGUs to engage in public-private partnerships in the implementation of tourism development efforts as she noted that the private sector has the resources to finance tourism infrastructures and facilities and they can benefit from such investments.
The airport in Kabankalan City, a border city of Negros Occidental in the south alongside Mabinay town in Negros Oriental, is situated on a 104-hectare lot in Barangay Hilamonan.
Started in 2007, the development now includes the construction of the 1.32-kilometer runway that allows light planes to land at the airport.
In September last year, 6th District Provincial Board Member Jeffrey Tubola, a former city councilor, said the Department of Transportation (DOTr) has proposed the inclusion of PHP855 million in the 2023 national budget for the completion of the project, including the passenger terminal.
Before this year, the DOTr allocated PHP90 million for the airport project aside from the PHP120-million budget provided by the city government and the PHP30-million financial assistance from the provincial government. (PNA)