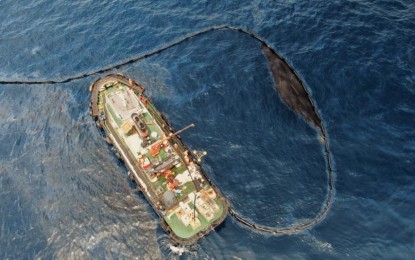 MANILA – The government can use "a fraction" of the taxes it collects annually from crude oil and petroleum products to finance the clean-up of the Mindoro oil spill and indemnify impacted coastal residents, House Deputy Speaker Ralph Recto said Wednesday.
The lawmaker from the 6th District of Batangas said the government collects PHP330 billion a year from crude oil and petroleum products, and a mere one day's worth of oil tax collection or PHP1 billion would be enough to jumpstart "abatement and alleviation" measures in areas hit by the ecological disaster.
"Ang katas ng buwis ng langis dapat gamitin panglinis ng tagas sa lumubog na barko (The gains from oil taxes should be used to clean up the oil leakage from the sunken ship)," Recto said in a statement.
"I am gently reminding government of its huge revenues from oil and fuel products to goad it to spending more for the containment of the oil spill. Ang punto ko lang ay (My only point is) whatever you are spending is just a mere drop in the barrel of oil tax collections," he said.
Based on a study of a House of Representatives think-tank, the Bureau of Customs collected PHP372 billion in duties and taxes on crude oil (PHP138.9 billion) and petroleum products (PHP233.5 billion) in 2021.
The Bureau of Internal Revenue added PHP7.4 billion in excise tax from petroleum products during the same year.
The BOC gets the bulk in collections based on the "pay as you enter" principle when taxes on crude oil and refined products are collected upon landing in ports.
Recto explained that an excise tax is slapped on oil products because it is viewed as a harmful product, causing pollution and sickness, and contributing to global warming.
"The argument was that it is paid to compensate for damages to health and the environment. That was how previous administrations framed their justification for higher oil taxes," he said.
The question now, he said, is if this principle can be invoked in the Mindoro oil spill, and if the collections of this specific tax can be spent for the contingencies, use to justify its imposition.
"Nature, when it is under threat, as in the case of the oil spill, is entitled to tax dividends. If the treasury were an oil tank, then it is only correct to siphon off from its contents to address a situation for which one particular tax was meant to alleviate," Recto said. (PNA)