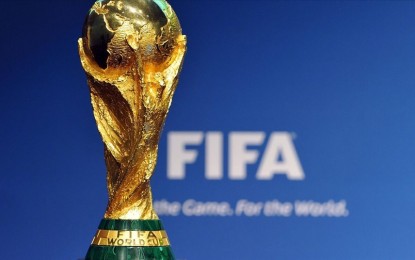 ANKARA – Morocco on Tuesday joined a joint bid with Spain and Portugal to host the 2030 FIFA World Cup.
"I would like to announce, before this assembly, that the Kingdom of Morocco has decided, together with Spain and Portugal, to present a joint bid to host the 2030 World Cup," Morocco's King Mohammed VI said in a message, the country's news agency, MAP, reported.
"This joint bid, which is unprecedented in football history, will bring together Africa and Europe, the northern and southern Mediterranean, and the African, Arab and Euro-Mediterranean worlds," he added.
The king added that their candidacy "will also bring out the best in all of us -- in effect, a combination of genius, creativity, experience and means."
The message was read by Chakib Benmoussa, Morocco's education and sports minister, in Rwanda's capital Kigali, where FIFA is hosting its 73rd congress.
The Moroccan national team surprised football authorities with their significant performance in the 2022 FIFA World Cup as they were the first African and Arab team to reach the semifinal stage in the international tournament.
Morocco lost to France 2-0 in the semifinals in Qatar 2022 before Croatia beat the Atlas Lions 2-1 in the third-place playoff.
In October, Ukraine initially joined Spain and Portugal's bid, but the war-torn country's role is uncertain after Morocco's announcement.
Spain hosted the 1982 World Cup. Meanwhile, Portugal was the UEFA EURO 2004 host.
Argentina, Uruguay, Paraguay and Chile previously submitted their joint bid for the 2030 World Cup. (Anadolu)