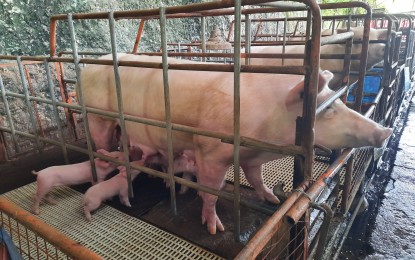 CEBU CITY – The provincial government of Cebu has tapped a private laboratory service provider for the detection and diagnosis of African swine fever (ASF) and classical swine fever (CSF), also known as "hog cholera" that might have infected the pigs in Carcar City.
Governor Gwendolyn Garcia's decision to tap the help of a private laboratory came as she issued Tuesday a memo addressed to Carcar City Mayor Mario Patricio Barcenas directing him that "culling of pigs within 500-meter radius shall be immediately stopped" to give way to a deeper analysis.
Garcia brought in Prime Care Alpha for more reliable laboratory services that could yield more accurate laboratory results, citing Cebu's PHP11-billion hog industry, which is at stake amid threats of the deadly ASF infection.
With Prime Care lending Capitol its expertise, the real cause of mass casualties of pigs in Carcar City could be determined, she said.
Garcia said there might be other diseases that caused hog deaths in Carcar, suspecting CSF also infected the herds of local hog raisers.
However, the Department of Agriculture (DA) 7 (Central Visayas) ASF coordinator, Dr. Daniel Ventura, said ASF and CSF "share the same symptoms."
Accreditation with the DA is needed, Ventura said, so that the result of laboratory analysis undertaken by a private laboratory service provider would become official.
"So far there is no accredited laboratory in Region 7. The only laboratory that can officially test samples is the Regional Animal Disease Diagnostic Laboratory in DA-7 field office in Mandaue City," he told the Philippine News Agency (PNA) in an interview.
Ventura said results from private laboratories could not serve as a basis for issuing certifications in transporting or shipping live hogs, pork, or pork products.
Meanwhile, Ventura suggested removing healthy pigs from the pens and keeping those that tested positive for ASF, following the stoppage of culling in Carcar.
Separating healthy pigs
"It should not be the other way around. Because if what has been removed are the healthy pigs, we are leaving the virus inside the pen. Healthy pigs should be transferred to safer pens," Ventura said.
According to him, culling within the 500-meter radius is required under the national protocol to combat the spread of the ASF virus.
He advised "test and destroy" through culling or burying pigs that test positive for ASF and "test and slaughter" for food for healthy pigs that test negative.
Ventura said although the "Bantay ASF" program in the villages empowers local government units in the protection, surveillance, and disease investigation within their area of jurisdiction, coordination with the DA field office is encouraged to ensure that actions are in line with the national protocols. (PNA)