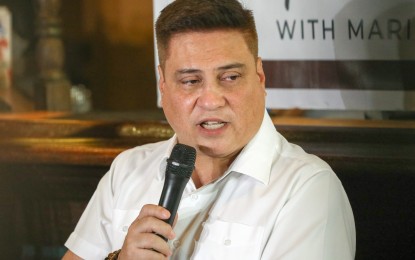 MANILA – Senate President Juan Miguel Zubiri on Wednesday denied allegations that the Senate is ignoring Charter change saying the Upper House through the Senate Committee on Constitutional Amendments, Revisions of Laws and Codes is doing its job.
Zubiri's statement came after Cagayan de Oro Rep. Rufus Rodrigues said that the Senate cannot ignore the overwhelming support for Charter change and out of inter-chamber courtesy.
The senator explained that the committee, headed by Senator Robinhood Padilla, is going around the country conducting public consultations and hearings for Charter change.
"I never stopped him. Last time I discussed with him (was) yesterday, (and told him to) continue your job. He is the chairman of the Committee on Constitutional Amendments, so he is doing his job. We have not prevailed upon him to stop that. We are doing our job to listen to the people's voice on this particular issue," Zubiri earlier said in a TV interview.
The House of Representatives approved on third reading the proposed Charter change through constitutional convention and even approved a PHP10,000 daily allowance to the delegates aside from the transportation and other expenses.
Zubiri further clarified that Charter change is not included in the priority bills of the administration, adding that as a inter-parliamentary courtesy, he will never pick a fight with the members of the House of Representatives which he served for nine years.
"I don't understand why our dear colleagues in the House would like to rush this when in all honesty, we passed the economic measures in the 18th Congress. I was majority floor leader and of course, Speaker Martin (Romualdez) was majority floor leader when we passed the Public Services Act of (Senator) Grace Poe. We passed the Retail Trade Act of Senator (Aquilino) "Koko" Pimentel, and we passed the Foreign Investments Act, which Senator Imee Marcos was the sponsor and author together with all of us. And these three were to answer the problem(s) of the economic provisions, in the restrictive economic provisions in the Constitution," Zubiri added. (PNA)