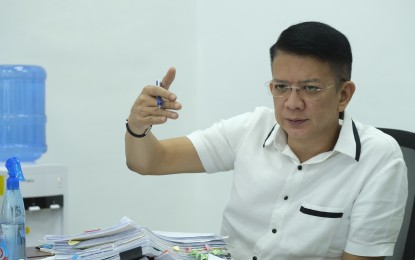 MANILA – Senator Francis "Chiz" Escudero urged the Office of Civil Defense (OCD) and the National Disaster Risk Reduction Management Council (NDRRMC) to simplify their process to ensure the prompt distribution of aids and save many lives.
Escudero pointed out that the latest incident of oil spill caused by the ill-fated MT Empress Princess tanker that sank off the coast of Mindoro Island needs a speedy release of aids.
He said the two national agencies must cooperate with the respective local government units (LGUs) in order to have an effective distribution.
Based on the report of the Philippine Coast Guard (PCG), a total of 23,005 families or 108,162 persons residing in 118 barangays in Oriental Mindoro and Palawan have been affected by the oil spill to date. Some 8,387 families or 30,226 individuals living in four barangays in Caluya in Antique also bear the brunt of the disaster.
The PCG further reported that more than 55 kilometers of coastline have been affected in the provinces of Oriental Mindoro, Palawan and Antique.
"Something must be done on the part of the OCD-NDRRMC. You must be able to find a way to hasten your procedures insofar as giving assistance is concerned," Escudero said in his statement.
The senator said the bureaucratic red tape cannot go on and the LGUs affected by the oil spill should not have the same experience as Sorsogon had when it was devastated by Typhoon Tisoy back in December 2019 when he was still governor.
Sorsogon has received the financial assistance from the calamity fund only in 2022 or three years after the typhoon struck.
The lawmaker also asked the NDRRMC to include in the revised memorandum circular a retroactive clause stating that the new and streamlined procedures will also apply to previous and past calamities.
"This is a corrective memorandum circular, anyway. And legally, you can apply it retroactively, too, to previous and other claims filed or made by affected citizens and all local government units," Escudero said. (With a report from Leonel Abasola/PNA)