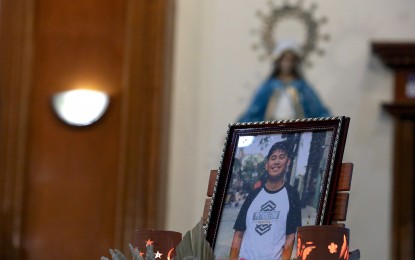 MANILA – Prosecutors have found probable cause to indict seven members of the Tau Gamma Phi fraternity for violation of the Anti-Hazing Law of 2018 in connection with the death of Adamson University student John Matthew Salilig.
In a statement, the Department of Justice (DOJ) said the panel of prosecution handling the case has recommended the indictment of Earl Anthony Osita Romero a.k.a."Slaughter"; Tung Cheng Benitez Teng, Jr. a.k.a."Nike"; Jerome Ochoco Balot a.k.a."Allie"; Sandro Dasalla Victorino a.k.a."Loki"; Michael Lambert Alcazar Ricalde a.k.a."Alcazar"; Mark Muñoz Pedrosa a.k.a."Macoy"; and Daniel Delos Reyes Perry a.k.a."Sting".
The DOJ said the seven, together with other individuals who remain at large, recruited Salilig, Roi Osmond Dela Cruz and two others to join the Tau Gamma Phi Fraternity-Adamson University Chapter.
As a requirement for admission into their fraternity, the respondents and other members of the Tau Gamma Phi-Adamson Chapter subjected the recruits to initiation and welcoming rites last Feb. 18, 2023 in Biñan City, Laguna province. The said rites led to the death of Salilig and caused injuries to Dela Cruz.
In finding probable cause against the respondents, the panel explained in its resolution dated March 13, 2023 that all respondents planned and actually participated in hazing the recruits by way of paddling. It was also established that the injuries sustained by Salilig led to his death.
Two separate criminal information for violation of Section 14(a) and 14(b)(1), respectively, of R.A. 8049, as amended by R.A. 11053, otherwise known as the "Anti-Hazing Act of 2018", will be filed before the Regional Trial Court of Biñan City against the suspects. (PNA)