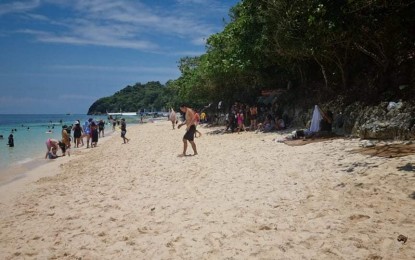 MANILA – Filipino tourism players bagged more than PHP200 million in negotiated sales at the Internationale Tourismus-Börse (ITB) 2023 in Berlin, one of the world's biggest travel and trade fair.
At a tourism stakeholders' summit on Wednesday, Tourism Secretary Christina Frasco said over 270 business meetings were held during the three-day networking event, resulting in bookings with a projected value of PHP251 million.
"These figures show the Philippines strong demand in the world's largest travel and tourism trade fair further demonstrating the bright prospects for our country," she said.
The DOT together with its marketing arm the Tourism Promotions Board (TPB) spearheaded 26 co-exhibitors from the public and private sector at the ITB, held from March 7 to 9.
The delegation highlighted the readiness of Philippine destinations to welcome tourists, particularly Boracay, Cebu, Siargao and Palawan.
Frasco earlier said Manila's ITB participation was to further position the Philippines as a "tourism powerhouse in Asia, and hopefully the world in the years ahead."
The Philippines' booth at the ITB Berlin featured the country's rich culture and sustainable tourism through the artistic works of T'nalak weaver Myrna Pula of South Cotabato and Yakan Weaver and Entrepreneur Angelita Pichay Ilul of Zamboanga.
Among the tourism stakeholders present at the event were Airtrav Philippines, Araw Hospitality Inc., Amorita Resort, Annset Holidays, Inc., Baron Travel Corporation, Blue Horizons Travel & Tours Inc., Bohol Beach Club, Chroma Hospitality Inc. (Crimson Hotels & Resorts), Club Agutaya Inc., CTPH lifestyle & Travel Services, Divaishnavi International Inc., El Nido Resorts, Evasion Tropicale Travel and Tours, GI Philippines Corp., Intas Destination Management Inc., Marsman Drysdale Travel Inc., MyTRIPS Travel and Tours, Plantation Bay Resort and Spa, Rajah Tour Philippines, Sharp Travel Service, Sarah Lea Travel and Tours, The Funny Lion, Total Exhibit & Expo Solutions, Inc., Travelexperts, Inc., Travelite Travel and Tours Co., and the Philippine Retirement Authority. (PNA)