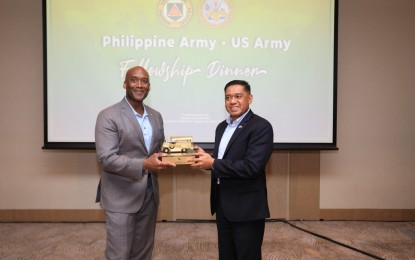 MANILA – Philippine Army (PA) chief Lt. Gen. Romeo Brawner Jr. said defense engagements between the PA and the US Army had been intensified.
This came following a fellowship between PA and American military officials shortly after the opening of this year's iteration of the "Salaknib" exercises last March 13.
Army spokesperson Col. Xerxes Trinidad, in a statement Wednesday night, said the event was in honor of US Army I Corps commander Lt. Gen. Xavier T. Brunson who personally attended the opening of this year's "Salaknib" exercises in Fort Magsaysay, Nueva Ecija.
The fellowship dinner was held at the Shangri-La at The Fort, Bonifacio Global City.
"The CGPA (Commanding General PA) also acknowledged the intensified engagements between the two countries focusing on interoperability in the areas of territorial defense, counter-terrorism, humanitarian assistance and disaster response, warfighting functions, and military professionalism despite the constraints on face-to-face engagements brought on by the Covid-19 pandemic," he added.
Brawner also expressed optimism toward more bilateral engagements and activities to realize the PA-US Army's mutual aspirations of promoting peace and stability in the region.
"The activities we undertake together are a true testament to our commitment to upholding the same degree of trust and confidence that we have consistently displayed. While working hand in hand, may we continue to share best practices and lessons gained as we build our capacity as dependable and credible forces," he added.
"Salakbib" is being held with the United States Army Pacific (USARPAC) and will run for March 13 to April 4. It is an Army-to-Army training between the PA and USARPAC.
Some 3,000 troops from the USARPAC's 25th Infantry Division and PA's 5th Infantry Division, 7th Infantry Division and 1st Brigade Combat Team will be training side-by-side in a spectrum of military operations in the coming weeks.
"The training audience will conduct bilateral exercises in Fort Magsaysay, Nueva Ecija and other venues in Central Luzon and Northern Luzon. 'Salaknib' 's first phase will precede Exercise 'Balikatan' slated for April 2023 while its second phase is scheduled for the third quarter of 2023," Trinidad earlier said.
"Salaknib" (shield in Ilocano) is an annual Army-to-Army exercise geared at strengthening the interoperability of Filipino and American soldiers. (PNA)