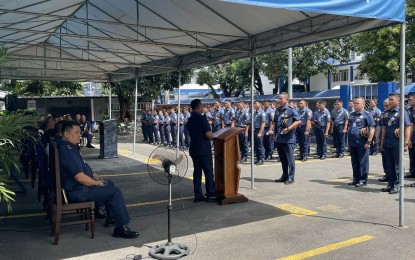 MANILA – The chief of the Criminal Investigation and Detection Group-National Capital Region (CIDG-NCR) and 12 other policemen were relieved from their posts over allegations of extortion on a group of Chinese businessmen in Parañaque City.
CIDG chief Brig. Gen. Romeo Caramat Jr. said Thursday the move was based on the complaint of the victim who sought the assistance of Lt. Gen. Rhodel Sermonia, Philippine National Police (PNP) deputy chief for administration, after the operatives allegedly took expensive watches and other personal belongings from their group on March 13.
Sacked were Col. Hansel Marantan, director of the CIDG-NCR, two other officers and 10 police non-commissioned officers.
The victims also told Sermonia that the CIDG operatives took PHP3 million from a vault and also demanded money from them in exchange for their freedom.
Caramat, however, clarified that the relief of Marantan was based on the concept of command responsibility since those involved were his officers.
"In fairness to Col. Hansel Marantan, I just received a courtesy resignation from being the regional chief of the NCR field unit. Maybe so as not to influence the investigation we are doing regarding the robbery extortion activity," Caramat told reporters in a chance interview.
"The matter is now being investigated. Their relief is an SOP (Standard Operating Procedure) so as not to have undue influence over the case," he added.
For his part, Sermonia said the policemen entered one of the houses of a Chinese businessman who was then playing mahjong with friends and fellow businessmen.
He said the cops told the victims that they went to the area over noise complaints of the neighbors.
"They started arresting those people and then allegedly, their offense was illegal gambling," Sermonia told reporters.
He said the policemen allegedly took two expensive watches, a Patek Philippe and Richard Mille and other pieces of jewelry.
"The 13 arrested personalities were brought here at the CIDG-NCR office (Camp Crame) and then in exchange for their freedom, according to the complainants, they gave money to our operatives," said Sermonia.
Some of the jewelry, including the two expensive watches, were recovered.
Sermonia said as the PNP's second highest official, he has a duty to ensure internal discipline is being upheld at all times.
"If they (police) caught them and they have violations, they have should have charged them immediately. Then, it also involves expensive possesions and a big amount money. This is why I immediately summoned the CIDG director if they have records of the operation. The CIDG director's action is swift about this matter and I also told the Chief PNP (Gen. Rodolfo Azurin Jr.) about this. He immediately ordered a probe and if there is a lapse on the part of our police officers, they are going to be charged," he explained. (PNA)